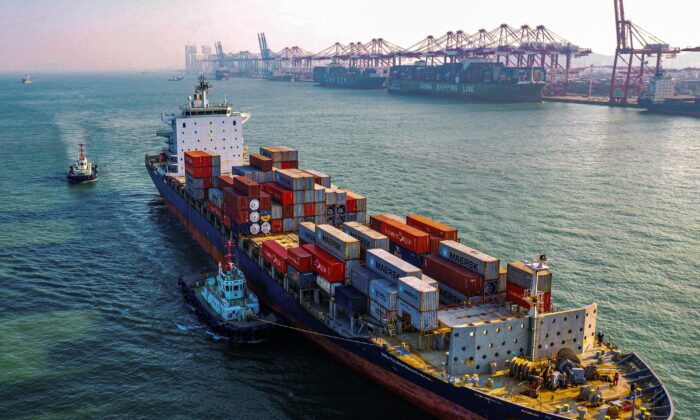 Local governments in China were considering alternative markets for its exports as U.S.-China trade tensions escalated in 2018, according to internal government documents The Epoch Times has newly obtained.
Authorities in northeast China's Jilin Province identified countermeasures shortly after the U.S.-China trade war erupted in March 2018.
According to a notice dated April 13, 2018, Jilin governor Jing Junhai ordered his Foreign Affairs Office to conduct a policy study on "U.S.-China trade frictions" and come up with measures to offset their negative impact.
The office determined that Jilin companies' imports from and exports to the United States would be directly affected. Substantial fluctuations were also likely to occur in stock markets, exchange rates, and prices of commodities, it warned.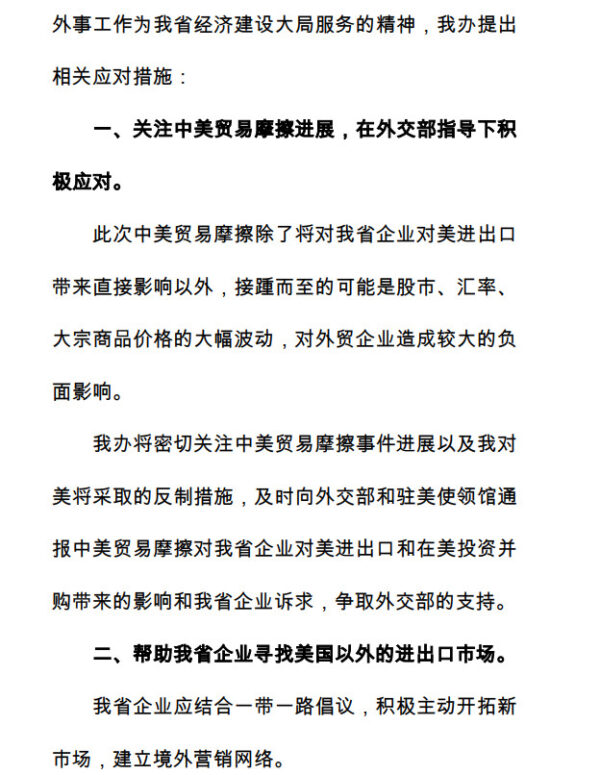 The Foreign Affairs Office proposed the following to counteract the impact: seeking import and export markets outside the United States; pursue emerging markets in Belt and Road Initiative (BRI)-participating countries through government contacts, industry associations, pro-Beijing organizations, and overseas Chinese; and encouraging local enterprises to upgrade their products or services. The BRI is Beijing's plan to bolster its influence via investments in infrastructure projects throughout Southeast Asia, African nations, and eastern Europe.
At the time of the document's release, the U.S.-China trade war had just broke out.
On March 8, 2018, U.S. President Donald Trump signed an executive order to impose 25 percent and 10 percent tariffs on imported steel and aluminum products respectively. The tariffs applied to all suppliers, but China was singled out for excess production that impacted U.S. industries.
About a month later, on April 2, China imposes tariffs of up to 25 percent on 128 U.S. products, worth about $3 billion.
The following day, Trump unveiled plans for 25 percent tariffs on about $50 billion of Chinese imports.
China retaliated the next day with tariffs on $50 billion worth of U.S. imports.
China commentator Li Linyi noted that the Chinese regime's proposals in the document were too broad, as it would be difficult for China to successfully gain import and export markets that could sufficiently replace the United States.
China is the United States' largest goods trading partner. In 2018, the U.S. goods trade deficit with China was $419.2 billion.
Other documents showed that Jilin authorities were still courting business ties with U.S. firms in the interim.
The Jilin Foreign Affairs Office noted that on Dec. 17, 2018, the governor and deputy governor met with executives from U.S. design firm Silk EV to discuss an R&D cooperative program between SILK EV and Chinese state-owned automaker FAW.
In another document dated April 22, 2019, Jing and Cargill chairman David W. MacLennan held an official talk to discuss further collaboration.
The following day, the U.S.-based agribusiness announced via a press release that it would invest $112 million to build the Cargill Biotech Industrial Park in Sonyuan city, Jilin, which would process corn.
According to the internal document, Jing stated that Cargill's presence in the province has already created 1,400 jobs, contributed an output value of 21.6 billion yuan (about $3.2 billion) to Jilin, and brought 650 million yuan in tax revenue.
China commentator Li said these documents show that the Chinese regime's approach to the trade war was to appear tough by imposing retaliatory tariffs, but continue to engage with the United States economically.
After 18 months of negotiations, on January 15 this year, the United States and China signed the historic phase I agreement. However, bilateral tensions have intensified as the two countries disagreed on a wide range of issues, from Hong Kong protests, Taiwan, and the global spread of COVID-19.
During an Oct. 8 interview with Fox Business, the president said that if he were re-elected, he plans to continue to impose tariffs on Chinese goods.