Questions arise over the stability of the Chinese Communist Party as top leadership goes through abrupt reshuffling.
The mysterious disappearance of China's defense chief just months after he ascended to the post is fueling questions about his fate and the stability of the Chinese Communist Party.
Li Shangfu, who was handpicked by Chinese leader Xi Jinping for the role in March, has been missing from public view for more than two weeks; his last appearance was on Aug. 29, when he delivered a keynote address to African defense officials at a security forum in Beijing.
A stream of reports citing sources in China and U.S. officials suggest that Mr. Li has been stripped of his responsibilities and is possibly under investigation for corruption, which would make him the fourth senior Chinese official falling from grace less than a year into Mr. Xi's third term.
The unexplained absence, after Mr. Li unexpectedly pulled out of a meeting with Vietnamese counterparts in recent weeks, follows a pattern amid the summer of abrupt reshuffling that shook the top echelons of Chinese communist leadership, among them the surprise ouster of former Foreign Minister Qin Gang.
Also a Xi protégé, Mr. Qin vanished from the public eye for a month after holding the role for seven months. With no explanation, his predecessor, Wang Yi,
took over
the post in July, while Mr. Qin's records briefly disappeared from the Foreign Ministry website.
In a similar fashion, Mr. Xi last month also dismissed two generals controlling the Rocket Force, the country's nuclear arsenal and conventional missile force. Gen. Li Yuchao, the former Rocket Force head, also missed the military unit's promotion ceremony in late June. The removal of two such high-level officials and the choice of their replacements, coming from outside that branch, strike longtime China observers such as Gordon Chang as unprecedented.
"Something's going on," said Mr. Chang, author of "The Coming Collapse of China" and an Epoch Times contributor, noting that he sees it as a sign of "turbulence inside the Chinese regime."
Mr. Xi, he said, might have "just decided to change his mind, or it could be that Xi Jinping's enemies were able to get rid of one of Xi Jinping's appointees."
"In communist party politics, you go after the underlings first, you work your way up the chain, and then eventually, the position of your target becomes untenable," Mr. Chang told The Epoch Times.
What makes the situation puzzling is the fact that all the recent removals involve Mr. Xi's appointees, whose backgrounds, without a question, would have been "thoroughly scrutinized before they were appointed," June Teufel Dreyer, a political science professor at the University of Miami, told The Epoch Times.
With "both their loyalty to Xi and their relative honesty were presumably certified," she asked, "how could either lack of loyalty or presence of corruption be so suddenly discovered?"
"They cast doubt on the entire appointment process," she said.
'Warning Sign'
Piecing everything together, Sen. Marco Rubio (R-Fla.) considers the developments in China to be part of Mr. Xi's effort to consolidate control.
"The unexpected disappearance of Xi Jinping's former defense minister, the sudden replacement of the Rocket Force leadership, the mysterious vanishings of Chinese scientists amid the COVID pandemic, and the disappearance of his foreign minister earlier this year, is a warning sign of how far he is willing to go to maintain his authoritarian grip on power," he told The Epoch Times. "Xi's purge will continue against anyone he sees as a potential threat."
The regime has been tight-lipped on Mr. Li's prolonged absence.
Chinese Foreign Ministry spokesperson Mao Ning told a reporter on Sept. 15 who asked about Mr. Li's status and whether he's under investigation that she was "not aware of the situation you mentioned."
Ms. Mao could have responded in the negative if nothing had happened, independent political commentator Cai Shenkun noted.
"Wouldn't that snuff out the rumors once and for all?" he told The Epoch Times. "From the way she responded, something must have happened. No question about that."
The exchange was scrubbed from the transcript later released on the ministry's website. A similar erasure occurred late last year amid nationwide protests and calls for a regime change amid Beijing's harsh COVID-19 curbs. Zhao Lijian, a spokesperson for the ministry at the time, apparently was
at a loss for words
during a press briefing when asked whether authorities would lift the control measures.
After a long pause, he asked to have the question repeated, and asserted that the question "does not reflect what actually happened." That conversation was never published, although videos were leaked. That marked one of his last public appearances before his reassignment to a backroom role in January.
The secrecy around the leadership changes doesn't surprise Sen. Marsha Blackburn (R-Tenn.).
"Authoritarian regimes like Communist China maintain complete and total control over the media and cover up the truth to control public discourse," she told The Epoch Times. "While the circumstances are unclear, we know China's playbook is to disappear top leaders and that Xi is under tremendous pressure, given the state of China's economy."
At about the same time as the Rocket Force shakeup, Chinese state media revealed that two high-ranking military officials, Lt. Gens. Wu Guohua and Wang Shaojun, the Rocket Force's former deputy commander and the top bodyguard to the regime's top leaders respectively, had died of unspecified illnesses. The months-long delay in the announcement in Mr. Wu's case, and the lack of clarity surrounding both, sparked speculation that the two had killed themselves.
To Mr. Chang, none of these are isolated incidents.
"They're all part of the continuing purge, and the Chinese regime is eating itself," he said.
Even if the successive dismissals bear no adverse impact on China's assertive foreign policy or its defense buildup, it does not bode well for the Chinese regime.
"They are likely to have an adverse effect on morale among the upper echelons of the party and military," Ms. Teufel Dreyer said.
'Enemies on All Sides'
Concerns about the political turmoil might have led Mr. Xi to skip the G20 summit in New Delhi, Mr. Chang said, rather than a wish to snub the host country or to avoid meeting with President Joe Biden, as some analysts have suggested.
"I think it's more likely that he felt that the situation in Beijing was too volatile and that it was dangerous for him to leave," he said. "The Chinese leaders are very concerned about assassination—always have been, and I think Xi Jinping has probably more so."
What appears striking to Mr. Chang is that all of these signs of political instability are occurring at the beginning of Xi Jinping's third term, a term that "a lot of people in Beijing thought he should not have."
Echoing Mr. Chang's views, Mr. Cai cited the Wagner rebellion in Russia, which he believes has put Mr. Xi on higher alert. In securing his grip on power, he said, the Chinese leader has made influential enemies in the military and the senior leadership circle.
"He has enemies on all sides," Mr. Cai said.
In a state of insecurity, a small incident could be the incentive for Mr. Xi to open an investigation of anyone he suspects of disloyalty, he said.
While media have cited unnamed U.S. officials saying they believe that the Chinese defense minister is under investigation, the administration has denied knowledge of Mr. Li's status.
"Ultimately, these are issues for the Chinese government to decide," Secretary of State Antony Blinken, who in June became the highest-ranking U.S. official to visit China under the Biden administration, said at a press conference with his German counterpart, Annalena Baerbock, on Sept. 15.
"We remain fully prepared, as we've been, to engage with the Chinese government, whoever happens to be holding the positions of responsibility at any given time, just as I did when I went to Beijing earlier this summer. And we expect that to continue irrespective of who's holding what portfolio."
National security adviser Jake Sullivan on Sept. 15 said, "I don't have anything for you today on that."
The Pentagon told The Epoch Times that "the [Department of Defense] continues to believe in the importance of maintaining open lines of military-to-military communication between the United States and the PRC across multiple levels, including the senior-most levels."
The most outspoken official on the issue so far has been Rahm Emanuel, U.S. ambassador to Japan.
"President Xi's cabinet lineup is now resembling Agatha Christie's novel 'And Then There Were None,'" he wrote on social media platform X on Sept. 7. "First, Foreign Minister Qin Gang goes missing, then the Rocket Force commanders go missing, and now Defense Minister Li Shangfu hasn't been seen in public for two weeks. Who's going to win this unemployment race? China's youth or Xi's cabinet?"
National Security Council spokesman John Kirby responded that he would "let the ambassador speak to his social media account" when asked whether the White House endorses Mr. Emanuel's message.
"We've long been clear about our concerns about a full range of worrisome [People's Republic of China] activities in the region there. And I think I'd leave it at that," he told reporters.
Mr. Li isn't the only one noted for his conspicuous absence this month.
Wang Yi, the most senior Chinese diplomat who has returned as the foreign minister, was a no-show at G20. On Sept. 15, the country's Ministry of Foreign Affairs, without mentioning Mr. Wang, said Vice President Han Zheng will represent Beijing at the U.N. General Assembly's annual high-level debate, a role that Mr. Wang had assumed last year.
The communist leader entered the BRICS conference venue in South Africa while his aide, believed to be a translator, was shut outside the door by the security guards.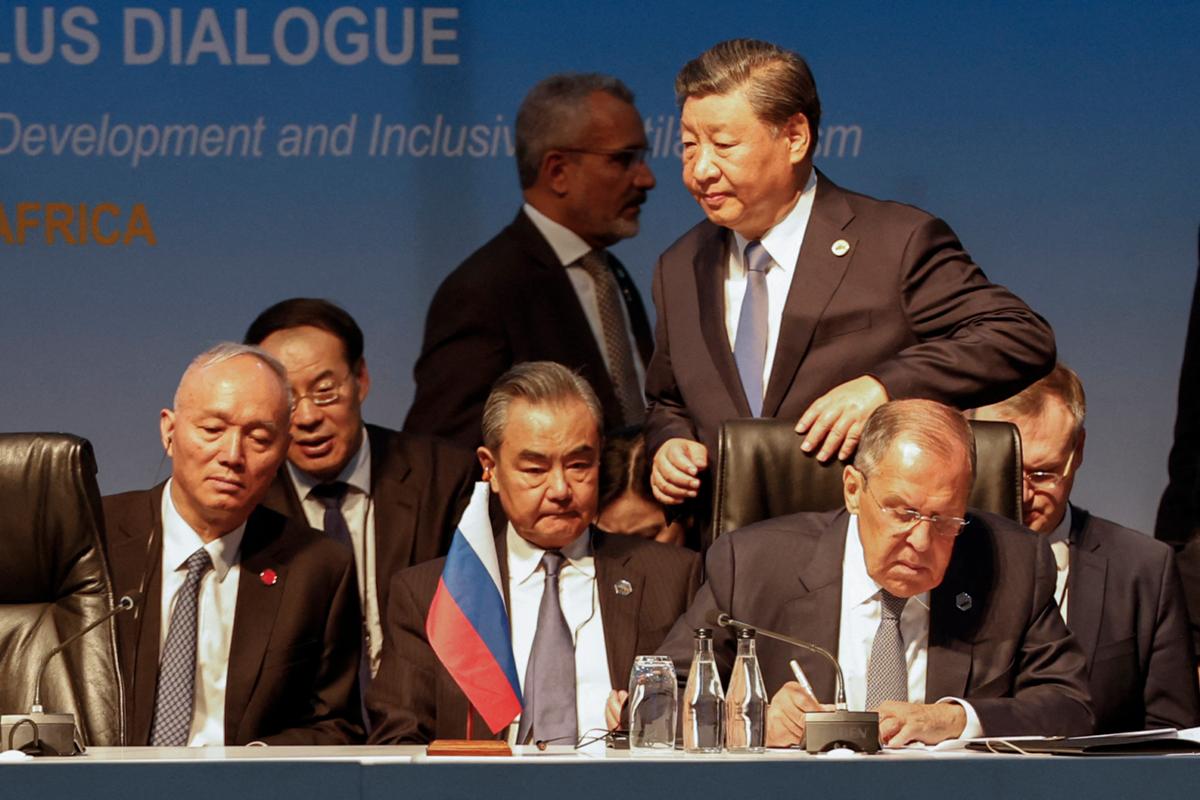 Such mishaps have likely stirred Mr. Xi's anger toward the foreign minister, who would have oversight on his itinerary, according to exiled Chinese scholar Yuan Hongbing. Citing insider sources, he said Mr. Wang had been reprimanded following Mr. Xi's South Africa trip.
During the Sept. 15 press conference, Ms. Mao didn't confirm or deny Mr. Wang's reported plan to travel to Moscow, saying only that "China and Russia have been in close communication."
It's unclear where the unexplained moves will end, "but the regime will certainly be weakened," according to Mr. Chang.
"And it could actually even lead to the failure of the regime," he said. "At this point, that's unlikely, but that's a real possibility."
Luo Ya contributed to this report.