A number of MPs spoke at a rally on Parliament Hill on May 10 to celebrate the 30th anniversary of the introduction of the Chinese spiritual practice Falun Gong to the public on May 13, 1992. The event was attended by hundreds of Falun Gong adherents and included a parade and traditional dance and music performances.
Liberal MP Judy Sgro said the moral teachings of Falun Gong, also called Falun Dafa, that are based on the tenets of truthfulness, compassion, and forbearance are "hope for the future" and what "Canadians want to hear more about."
"Canada is so strong because of all of you, because you are here today and you're teaching us about peace, truth, the tolerance, and the respect that we need to continue to have for each other."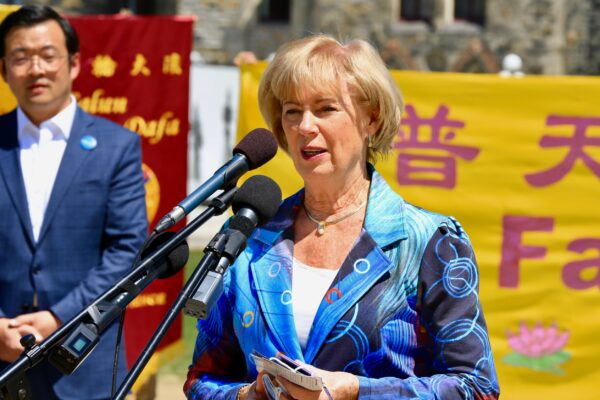 Kevin Lamoureux, a Liberal MP and parliamentary secretary to the leader of the government in the House of Commons, said May 13, the day celebrated as Falun Dafa day, "is a very special day around the world."
Referring to the three tenets of Falun Dafa, Lamoureux said in a video recording that, "truthfulness, and compassion, and forbearance … are the things that have so much meaning in society today, and I just want to wish all a very special celebration on May 13."
After the meditative practice was first introduced in 1992 in China, it gained widespread popularity due to its benefits to people's mental and physical health. By the late 1990s, the practice had between 70 million to 100 million adherents in China alone, according to official estimates.
"Falun Gong teaches us that to achieve peace of mind, to attain the Tao, or what the Buddha called the Way, one must learn how to live by the cosmic qualities of truthfulness, compassion, and tolerance. Today, millions of people from all ethnic backgrounds around the world practice Falun Gong, and improved their mental, moral, and physical health," Falun Gong spokesperson Joel Chipkar said at the rally.
Falun Gong adherents in China have been subjected to a far-reaching and brutal persecution campaign since July 1999, initiated by then-Chinese Communist Party (CCP) leader Jiang Zemin who perceived the traditional practice's popularity to be a threat to the regime's totalitarian rule. The violent campaign has resulted in countless Falun Gong adherents being illegally imprisoned and subjected to forced labour, torture, and even live organ harvesting.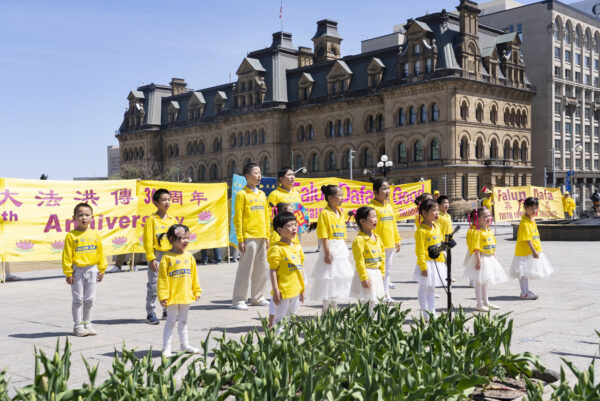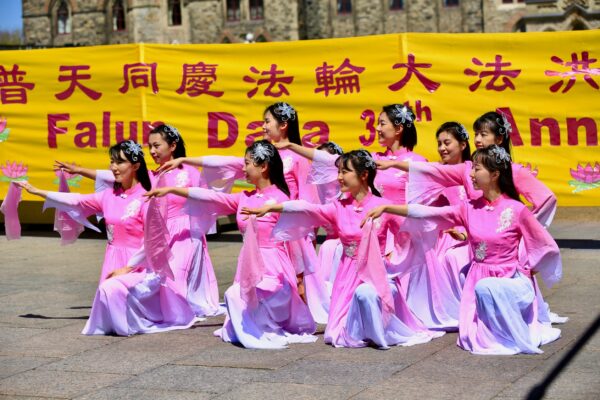 Those gathered at the celebration also paid tribute to former MP and cabinet minister David Kilgour, who worked with Canadian human rights lawyer David Matas to expose the CCP's forced organ harvesting of Falun Gong prisoners of conscience in 2006. Kilgour passed away last month, but his parliamentary colleagues and Falun Gong adherents said his legacy will live on.
Conservative MP Garnett Genuis, who has continuously introduced to Parliament legislation and petitions against forced organ harvesting and trafficking, praised Kilgour for raising global awareness on the issue, saying that a current bill will likely be finally passed in Canada to fight against such crimes against humanity.
"It was Canadians who started pushing this discussion, and yet Canada has been behind in terms of not actually being able to adopt legislation to combat forced organ harvesting and trafficking," Genuis said.
"Members of Parliament have been trying to do this for 15 years, but I think that this, the 44th Parliament, is finally going to be the one that gets it done. We have momentum behind it, and I think we have the timelines to finally get it done."
Bill S-223, introduced to the Senate by Sen. Salma Ataullahjan, will be up for debate in the House of Commons on May 13, Genuis said.
"This would be Canada finally stepping up as a government, joining the community of nations that have been working so hard to combat forced organ harvesting and trafficking," he said, adding that Canada needs a "stronger foreign rights-oriented foreign policy" as the CCP increasingly carries out state-backed interference to "interfere with people's lives who are advocating for justice and human rights" in Canada.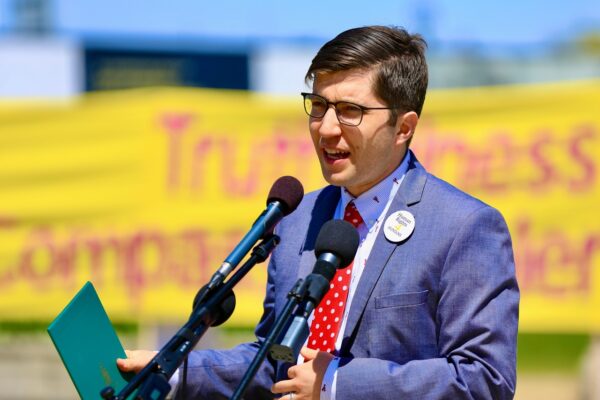 Genuis also read a greeting letter from interim Conservative leader Candice Bergen, who said Falun Gong adherents have helped to "encourage and uplift" their communities with their values of truthfulness, compassion, and tolerance during the COVID-19 pandemic.
Conservative MP Scott Reid, who said he has helped some Falun Gong adherents escape communist China and come to settle down in Canada, said the regime has further tightened its control on its people, making rescue efforts much more difficult in the past decade.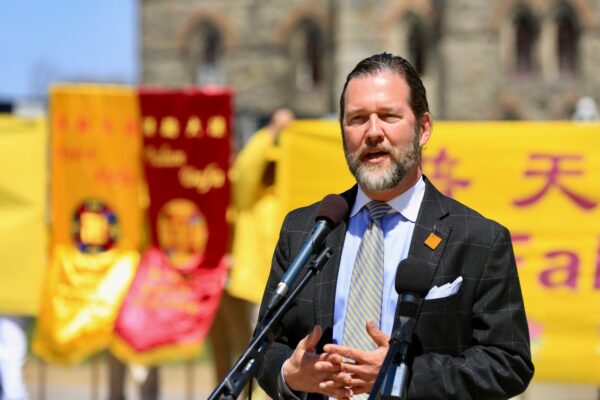 "I note with regret that the successes that I've been able to participate in are now in the distant past. We had great success early on in helping to get Falun Gong practitioners with links to Canada, people who've had some kind of family link in this country, out of prison in China to come here where they've been model citizens ever since," Reid said.
"We've had much less success in the last decade. And that is because the regime in the PRC [People's Republic of China] is no longer as open to international opinion as it once was. I very much regret that change, and I do hope that over time, the people who run the PRC right now will learn from the example that you are setting—you are setting true to the traditional values of Chinese civilization."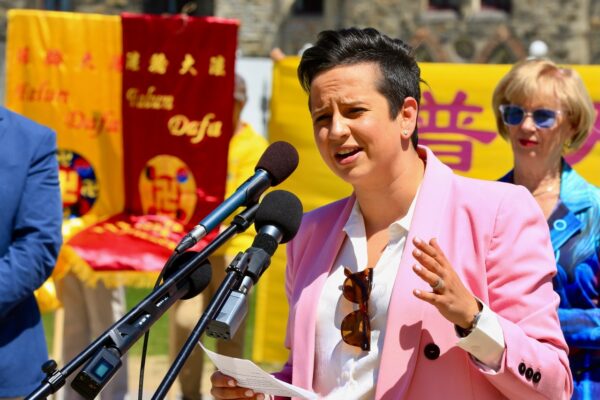 Tory Melissa Lantsman noted that the CCP had in fact encouraged the practice of Falun Gong in China before launching its brutal campaign again the group in 1999.
"On this solemn day, on this anniversary, we acknowledge the resilience and the strength and the perseverance of the millions of Falun Gong practitioners still under threat by the communist government in China. We applaud their efforts and practice, to practice their religion even in the face of a constant campaign of fear and intimidation, both in China and here, right here in Canada," she said.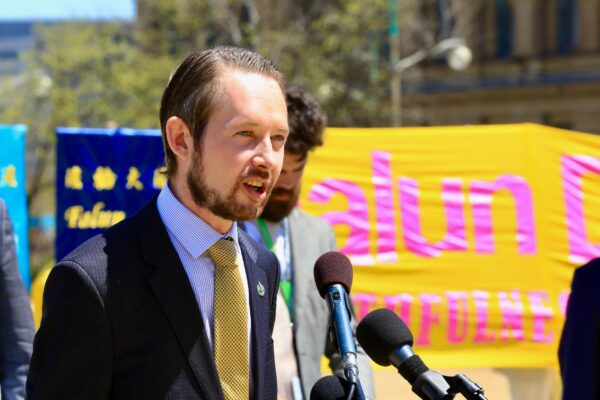 Conservative MP Michael Cooper, who has been vocal against the Chinese regime, called on the Canadian government to use the Magnitsky Act against CCP officials complicit in the crimes.
"Falun Dafa is good. It is a movement that has brought peace of mind to millions of practitioners around the world. And despite being a force for the best in humanity, for the last 23 years, we have seen a systematic, unrelenting campaign to exterminate the Falun Gong by the brutal and evil Chinese communist regime," he said.
"Let me be clear that I and all of my colleagues stand in solidarity with you and with all Falun Gong practitioners who are under siege by the Chinese communist regime, a regime that has perpetrated grave crimes against humanity," Cooper continued.
"We must not let up until those who are responsible are held accountable. … And that's why it's critical that the Government of Canada impose Magnitsky-style sanctions against Chinese communist officials responsible for these grave crimes and gross human rights violations."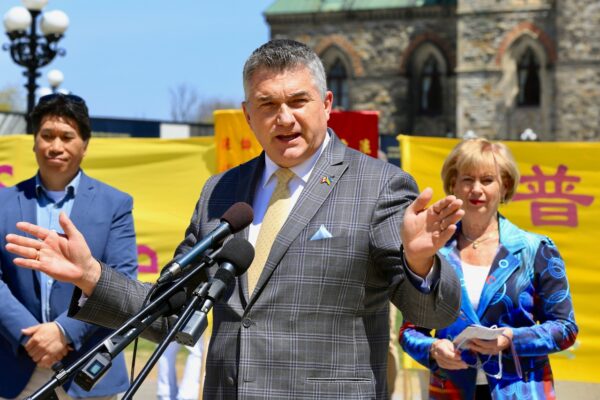 Cooper's call for Magnitsky-styled sanctions against the CCP was backed by his colleague James Bezan, who said he was proud to introduce the legislation in Parliament.
"Those Falun Gong practitioners do not deserve to have their human rights stripped away, they do not deserve to be denied freedom of religion and freedom of association, they do not deserve to be used for human experimentation and for this gross idea of organ harvesting, that has to stop," Bezan said.
"One thing I'm very proud of in my time in office is I've been able to bring forward the Sergei Magnitsky law to hold those gross human rights violators and corrupt foreign officials to account, to be able to name them, shame them, sanction them, and ensure that they don't get away with their violations of basic human rights."
Other Conservative MPs who participated in the celebration were Arnold Viersen, Anna Roberts, and Larry Brock.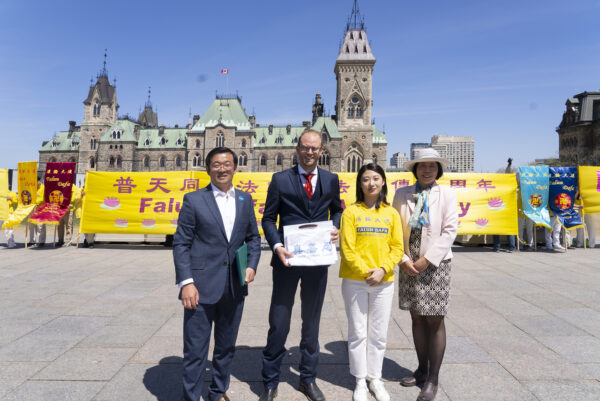 Viersen, who sits on the House of Commons subcommittee for international human rights, says he has also put forth many petitions in defence of Falun Gong adherents and to fight against forced organ harvesting in China, like his colleague Genuis.
"I want to thank the Falun Gong community for their advocacy," he said. "On behalf of the folks who are suffering under the forced organ harvesting, I want to thank you for all the petitions that you supply us with so that we can continue to bring that issue up over and over and over again."
An assistant to MP Chris Warkentin also came to the rally and shared Warkentin's greeting letter with members of the spiritual group.
Tory MP John Brassard sent a video of his greetings to Falun Gong practitioners, saying in Chinese that the practice is "good."
"Falun Dafa is good, Falun Dafa Hao," he said.
"Falun Dafa was founded 30 years ago in China by the principles of truthfulness, compassion, and tolerance. Unfortunately, many practitioners in China are still facing oppression and persecution by the Communist Party. Canadians who practice Falun Gong, many of whom arrived as refugees fleeing the persecution in China, are truly grateful that they can enjoy the freedoms, diversity, and the compassionate support across the country in Canadian society, and are proud to be part of the communities here and call Canada their home."
Prior to the rally, hundreds of Falun Gong practitioners marched in a parade with a live band in the national capital. The group also celebrated the anniversary with art, music performances, and greetings to the spiritual practice's founder, Mr. Li Hongzhi.