Despite enacting stringent lockdown measures, Chinese authorities are struggling to contain CCP virus outbreaks throughout northern China.
Hebei Province is the hardest-hit, with two cities, Shijiazhuang and Xingtai, seeing the biggest surges in new infections.
Authorities have publicized little information despite imposing restrictions on people's movements and requiring mass testing for COVID-19, the disease caused by the Chinese Communist Party (CCP) virus.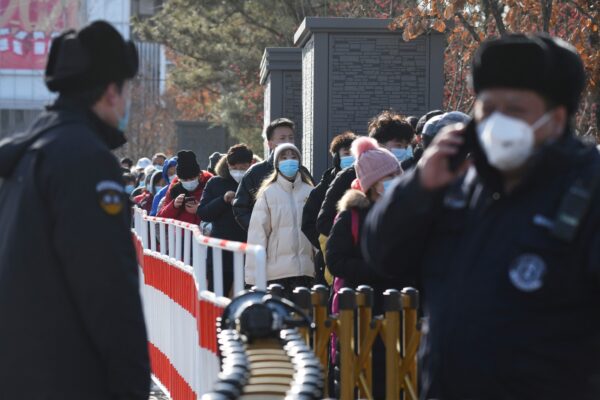 The central government has thus far reported dozens of new cases each day. But government directives suggest the outbreak is more severe than authorities let on.
Shijiazhuang
Meanwhile, citizens revealed the harsh reality of living under lockdown. All get-togethers, large-scale events, and inbound and outbound travel have been banned. Stores have been shut down. In some parts of the city, residents cannot leave their homes.
In recent days, residents in Shijiazhuang complained that food prices had gone up dramatically. They worried that their savings may soon run out.
Cheng Lan (pseudonym) told the Chinese-language Epoch Times in a Jan. 11 phone interview: "The mayor said eggs are 4.14 yuan per 500 grams (about $0.58 per pound). But the lowest price I can find is seven to eight yuan per 500 grams (about $1 to $1.12 per pound)."
Cheng said the prices of many food products, such as fruits and vegetables, have at least doubled in the past few days.
Due to the worsening outbreak, some schools have forced students to leave campus. However, all public transportation and taxi services were suspended following a lockdown imposed last week. They became stranded on the streets.
Xingtai
On Jan. 10, the Xingtai United Front Work Department urged residents to donate materials for people who will be staying at a newly set-up makeshift quarantine facility.
The city's United Front said it needed to furnish 5,000 patient rooms with a single bed, mattress, blanket, pillow, toiletries, tea kettle, and other necessities.
The announcement added that materials for 3,000 rooms should be made ready within two days.
On Jan. 11, state-run newspaper Dazhong Post News cited the city's United Front officials, who said the materials would be used in Nangong, a municipal area within Xingtai, and that the furnished rooms would be used by medical staff who treat COVID-19 patients and close contacts of diagnosed patients.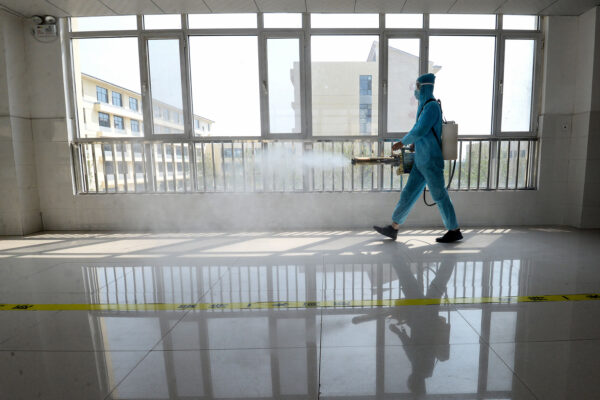 Nangong has only announced 15 infections so far. But the city also said 334 medical staff were taking care of COVID-19 patients.
The discrepancy between authorities' preparation measures and the low number of confirmed infections led some to question the official data.
Ms. Chen, who lives in Nangong, told Radio Free Asia: "More and more residential compounds and neighborhoods were sealed off in the past days… I can't tell you the number of infections. We are not allowed to say it. You should understand my meaning after I told you that Nangong is fully locked down."
Unannounced Outbreaks
Two northeastern provinces, Heilongjiang and Jilin, announced new confirmed patients. But the central government did not include them in their official tally.
Wangkui county in Suihua city, Heilongjiang, reported that a pregnant woman took a nucleic acid test and tested positive. Soon, her 10-year-old son was also diagnosed.
Two days later, on Jan. 11, the county entered full lockdown and told all residents not to leave city borders.
Wangkui residents shared the videos they shot with The Epoch Times, in which authorities could be seen sealing off residential compounds.
A man who works at a local hotel named Shunfulou said in a phone interview that all residents are now being required to take nucleic acid tests. Each household is only allowed to have one person go outside to buy necessities.
A man working at another hotel said no taxis or private vehicles are allowed on the roads. All businesses except hotels and supermarkets have been closed since Jan. 10 afternoon, he said.
The outbreak has now spread to other cities.
On Jan. 12, Harbin, Qiqihar, and Yichun cities in Heilongjiang, as well as Changchun city of Jilin, announced that they detected patients who tested positive after visiting Wangkui county recently or coming into contact with someone who had traveled there.
On Tuesday, Changchun authorities were seeking out people who took the same buses, shopped in the same stores, or visited the same restaurants as the diagnosed patients.
Similar scenarios occurred in Jinzhong city, Shanxi Province, and Langfang city, Hebei.
On Monday evening, Jinzhong city announced "wartime" mode after two people who recently visited Hebei tested positive.
Langfang, a city of 4.9 million, went into full lockdown after a person who recently traveled to Beijing tested positive. All residents must be confined at home for seven days and tested for the virus.