By Rick Fisher
News Analysis
China's People's Liberation Army (PLA) on April 20 revealed two new missiles intended to increase its ability to overwhelm the defenses of U.S. Navy ships that help deter Chinese Communist Party (CCP) aggression.
While the disclosures were timed to coincide with the 73rd anniversary of the PLA Navy (PLAN), the timing also served to counter the implications of the April 14 sinking of the Russian cruiser Moskva for the Russian-technology-dependent Chinese navy.
These disclosures also had the main elements of a CCP propaganda department orchestration: vague images derived from obscure videos; and an echo chamber of propaganda organs, this time by the South China Morning Post and the Global Times.
The more important missile disclosure was that of a new anti-ship ballistic missile (ASBM) that could be capable of hypersonic speed, but is small enough to be fired from the vertical launch systems (VLS) of PLAN cruisers, destroyers, and frigates.
For the PLA, ASBMs are a key weapon to deter a U.S. military response to a Chinese attack against Japan or Taiwan. They are accurate enough to target large U.S. Navy ships like aircraft carriers and fast enough to stress U.S. ship defenses.
Already deployed PLA ASBMs—like the DF-16B, DF-21D, and DF-26B—are much larger, not designed for ship launching, and are controlled by another service, the PLA Rocket Force.
But as the PLAN has 3,300-plus vertical launchers, it could potentially overwhelm U.S. Navy ships or those of any other democracy around the world that lacks the means to defend against ASBMs.
Some Chinese internet observers called this missile the YJ-21, or "Strike Eagle-21," and it was shown being fired vertically from a new PLAN 13,000-ton Type 055 cruiser. It features a unitary diameter first stage and a finned second stage that may or may not have a rocket motor.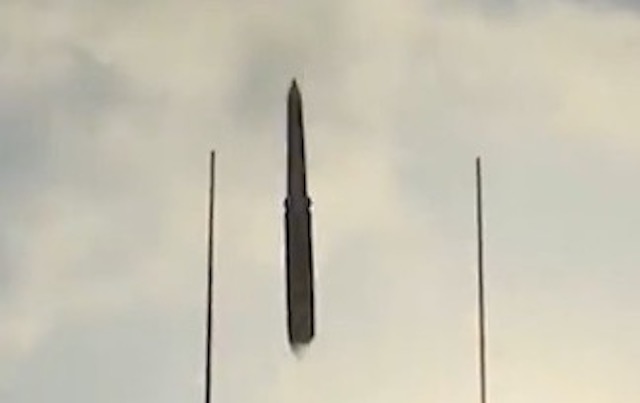 In an April 20 article, Minnie Chan, a military issue reporter for the South China Morning Post with a long record of assisting PLA propaganda themes, cited Chinese analysts reporting that this new ASBM has a range of 600 miles to 930 miles.
On April 21, the Global Times reported the new missiles were "merely speculative" and an example of "hype by foreign media."
But there has been a prior Chinese warning of this missile. In his famous 2017 university briefing on future Chinese naval programs, leaked on the Chinese internet, Adm. Zhao Dengping was the first to disclose publicly that the PLAN was working on an ASBM that could be fired from the vertical launchers of warships.
In early 2018, a source at an Asian military exhibit told this analyst that the PLA had started to test this new ASBM, and the most recent disclosures indicate this missile may now be in service.
Another April 20 disclosure came in the form of a brief video that provided a clearer, but not high-definition, image of the PLA's new air-launched ballistic missile (ALBM), which arms the Xian Aircraft Corporation H-6N refuelable medium bomber of the PLA Air Force (PLAAF).
While first seen in 2017 and featured prominently in a 2018 major PLA military parade, it was not shown armed with its novel ALBM. The Chinese propaganda department only allowed one other vague image of this missile to appear.
But the latest image seems to confirm Chinese source reports from early 2017 of a new H-6 version that would be armed with a large ALBM.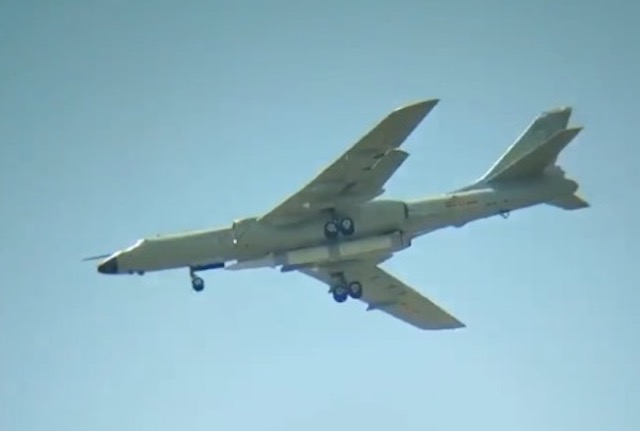 This missile appears to be an air-launched version of the China Aerospace Science and Industry Corporation (CASIC) three-stage DF-21D, a 1,050-mile range anti-ship ballistic missile. When launched from altitude, the ALBM version likely has a range exceeding 1,200 miles.
Unrefueled, the H-6N could launch ALBM strikes against the increasingly important U.S. military bases at Guam.
But with multiple aerial refuelings from the PLAAF's new Y-20U tankers, the H-6N could approach Hawaii close enough to launch ALBM strikes against the U.S. Navy base at Pearl Harbor.
It is also likely that the current or future versions of the PLA's ALBM will be able to target U.S. military satellites in low Earth orbit, which are crucial to distributed U.S. military operations in the Pacific.
The PLA's new ALBM and ship-launched ASBM are now part of an array of at least 20 weapons that target large U.S. Navy ships. Ship-launched ASBMs can further increase the PLA's ability to overwhelm U.S. Navy ships with long-range missile strikes.
In addition, the ALBM, like other large PLA theater-range missiles, can be armed with a nuclear warhead, while the small ASBM could be armed with small tactical nuclear warheads that would also arm shorter-range PLA ballistic and cruise missiles.
Starting under the Trump administration, one American response was to get out of the 1987 Intermediate Nuclear Forces (INF) Treaty that prevented U.S. deployment of missiles with a range greater than 300 miles, and start developing new theater-range missiles.
According to reports, the U.S. Army may purchase more than 3,900 of its 300- to 500-mile range Precision Strike Missile (PrSM); a new 930- to 1,200-mile Typhon medium-range ballistic missile; and a 1,860- to 3,100-mile-range Long Range Hypersonic Weapon (LRHW).
Since the Typhon is based on the U.S. Navy's Raytheon SM-6 anti-aircraft and missile intercepting missile, it is possible that this missile could also be developed in a new U.S. vertical launched ASBM.
In Asia, U.S. Navy warships can deploy over 4,200 vertical launch systems. While a larger number than that of China, the PLAN could catch up quickly; from 2021 to early 2022, it deployed over 1,200 new VLS on new warships.
A new U.S. ASBM could pose a powerful deterrent to the CCP using its warships to attack Japan or invade Taiwan. At the same time, multi-role surface-to-air missiles could allow for a more robust defense against the large variety of PLA missiles that target large U.S. Navy warships.
Views expressed in this article are the opinions of the author and do not necessarily reflect the views of NTD Canada.