China and Russia conducted their first joint military drills since the beginning of the war in Ukraine, amid a flurry of military activity that saw forces sortie from Japan and South Korea in response.
Elements of the Chinese and Russian air forces performed aerial operations over the Sea of Japan, the East China Sea, and the western Pacific. Nuclear-capable bombers and fighter jets from both nations were present. China and Russia conducted similar exercises in the previous three years as part of their annual military cooperation plan, but those exercises came later in the year.
Japan Defense Minister Nobuo Kishi said that the move was likely a provocation intended to rattle U.S. President Joe Biden, Indian Prime Minister Narendra Modi, and Australia's newly elected leader, Anthony Albanese, as they met in Tokyo to discuss how to curb the growing aggression of the Chinese Communist Party (CCP).
"We believe the fact that this action was taken during the Quad summit makes it more provocative than in the past," said Japanese Defense Minister Nobuo Kishi
Japan scrambled warplanes to repel a group of Chinese and Russian military aircraft that came near to entering its airspace, even as the Quad leaders were meeting in Tokyo.
A pair of Chinese and a pair of Russian military aircraft flew near the airspace, while a Russian reconnaissance plane flew northward. At one point, the pair of Chinese aircraft appeared to leave and to be replaced with a new pair.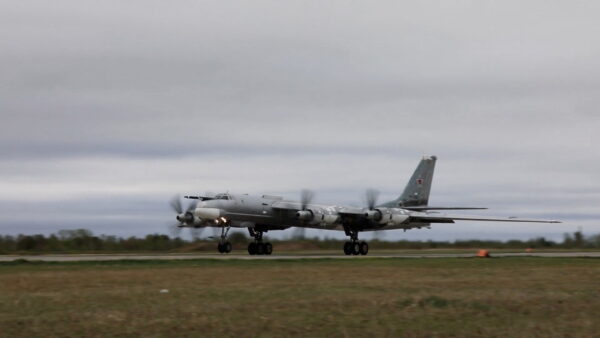 Similarly, South Korea's military said that it scrambled fighter jets to respond to at least four Chinese and four Russian warplanes that entered its air defense identification zone (ADIZ). The fighters entered and exited the zone multiple times throughout the day, it said, but it was not immediately clear if the aircraft involved in both incidents were the same aircraft.
An ADIZ is the area around a nation's airspace where it may demand that aircraft identify themselves, and is generally considered something of a buffer zone around the nation's air space proper. Moscow does not recognize South Korea's ADIZ as legitimate and Beijing maintains that it is entitled to enjoy freedom of movement there.
The operation lasted roughly 13 hours, according to the Russian defense ministry. It involved Russian TU-95 and Chinese H-6 strategic bombers, which are capable of conducting nuclear strikes and designed largely to target priority in-theater targets such as U.S. aircraft carriers.
The partnership between the Kremlin and CCP has deepened in recent months, following the declaration of a "no limits" agreement between CCP General Secretary Xi Jinping and Russian leader Vladimir Putin in early February.
Since that time, the CCP has drawn international condemnation for its refusal to condemn Moscow's invasion or to acknowledge multilateral financial sanctions against Russia as legitimate. Likewise, the CCP does not refer to the war as an "invasion" and heavily censors negative talking points about Russia within the mainland.
Numerous outlets have also reported on intelligence that China conducted a cyber attack on Ukraine the day before Russia's invasion and that it was considering sending military support to Russia.
The incidents with Japan and South Korea will therefore likely serve to keep tensions running at peak levels following the CCP's continued campaign of military intimidation against Taiwan through the use of similar aerial sorties.
The exercises also followed controversial statements by Biden, who said that the United States would defend Taiwan militarily from a Chinese invasion. Biden's staff later tried to walk back the comments and said that there had been no change in U.S. policy, which is purposely ambiguous on whether the United States would come to Taiwan's defence in the event of a Chinese attack.
Andrew Thornebrooke is a reporter for The Epoch Times covering China-related issues with a focus on defense, military affairs, and national security. He holds a master's in military history from Norwich University.