Amazon says it will open two new fulfilment centres in southern Ontario and create more than 2,500 jobs by 2021.
The Seattle e-commerce giant announced on Wednesday it plans to open one fulfilment centre in Hamilton, Ont. and another centre in Ajax, Ont by 2021, and promises good prospects to job seekers.
"We look forward to creating an additional 2,500 full-time jobs with competitive pay and benefits starting on day one," Sumegha Kumar, Amazon Canada's director of customer fulfilment operations said in the release.
In Hamilton, more than 1,500 people will be hired to work alongside Amazon robotics to "pick, pack and ship small items to customers such as books, electronics and toys" in the new 855,000 square foot fulfilment centre.
"This is the beginning of a strong partnership with Amazon Canada, and I look forward to our continued collaboration in the future," Hamilton Mayor Fred Eisenberger said in the city's press release.
As for Ajax, the new one million square foot fulfilment centre will have more than 1,000 employees packing and shipping "large customer purchases such as sports equipment, patio furniture, fishing rods, pet food, kayaks, bicycles and other household goods."
"Welcoming a global leader like Amazon will mean so much to the community, keeping employment strong in the town, and across the Region as we recover from COVID-19," Ajax Mayor Shaun Collier said.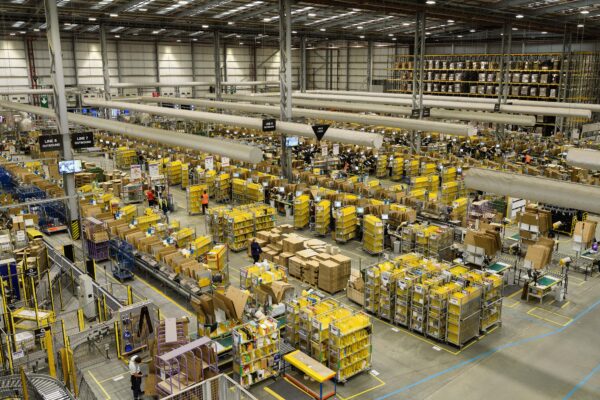 According to a study by Statistics Canada, the COVID-19 pandemic has significantly changed the way people make retail purchases.
Between February and May 2020, total retail sales in Canada dropped by 17.9 percent, but retail e-commerce sales surged by more than 99 percent, nearly doubling in sales, the study notes.
The study also reveals the sales for in-store retailers in sporting goods, hobby, book and music stores fell by 79 percent from February to April 2020, whereas the sales of e-commerce retailers shot up by 154 percent.
Likewise, sales for furniture and home furnishing declined by almost 70 percent for in-store retailers, but the online counterparts saw a sharp increase of almost 200 percent during the same period.
Those changes have hit many small retailers particularly hard.
If Amazon's investments in Hamilton and Ajax proceed as planned, the company will have a total of 16 fulfilment centers in Canada by 2021.
The expansion plans of Amazon, however, caught the attention of the competition watchdog.
On Aug. 14, the Competition Bureau launched an investigation to determine if the online retailer is harming competition in Canada.
The investigation seeks to gather confidential information from Canadian businesses with a focus on "potential abuse of dominance" by the e-commerce retailer.
"The bureau is examining whether Amazon is engaging in conduct on its Canadian marketplace, Amazon.ca, that is impacting competition to the detriment of consumers and companies that do business in Canada," the watchdog said in its press release.
One area of investigation involves examining whether third party sellers are impacted by Amazon policies to sell their products at a lower price on retail channels such as their own websites or other online marketplaces.
Another area probes if the e-commerce giant places any disadvantage to sellers who opt out of "Fulfilment By Amazon" service or advertising on its Amazon.ca platform. The bureau is also checking if consumers are influenced by Amazon's strategies to buy its products over its competitors.
"The Bureau's Investigation is ongoing and there is no conclusion of wrongdoing at this time," the agency said.