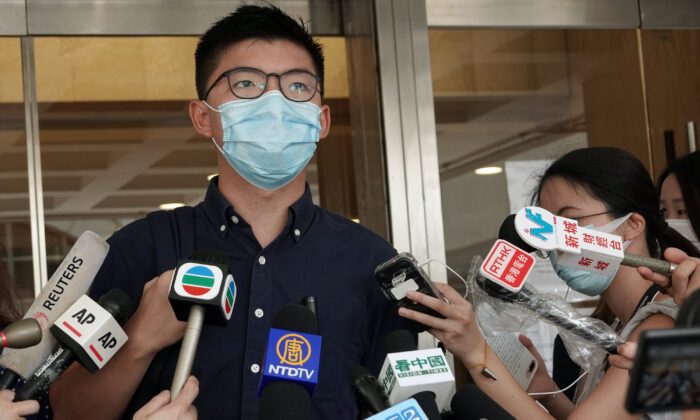 Prominent Hong Kong pro-democracy activist Joshua Wong was arrested on Sept. 24 for allegedly participating in an "unauthorized assembly" in October 2019 linked to the government's anti-mask law, his attorney said.
"Wong is accused of participating in an unlawful assembly on Oct. 5 last year, when hundreds marched to oppose an anti-mask ban the government rolled out," his lawyer Jonathan Man told AFP, noting that he was arrested while at a police station for another case for which he is currently on trial.
According to a post from the 23-year-old's official Twitter account, he was also arrested for violating Hong Kong's "draconian anti-mask law," which took effect on Oct. 5 and has since been ruled unconstitutional.
"Joshua is arrested when reporting to Central Police Station at about 1 p.m. today," the post read. "The arrest is related to participating in an unauthorized assembly on Oct. 5 last year. He is told to have violated the draconian anti-mask law as well."
Veteran social activist Koo Sze-yiu, 71, was also arrested for joining the "unlawful assembly" on Oct. 5 against the anti-mask ban, reported AFP's Xinqi Su.
Police confirmed the pair's arrest, saying that they were accused of "knowingly taking part in an unauthorized assembly," while noting Wong's violation of the city's anti-mask law, reported the South China Morning Post.
The two men are scheduled for an appearance at Eastern District Magistrates Court on Sept. 30, police said.
Wong's latest arrest adds to several unlawful assembly charges or suspected offenses he and other activists are facing related to last year's pro-democracy protests, which prompted Beijing to impose a sweeping national security law on June 30.
The young activist's arrest comes just weeks after Hong Kong media tycoon Jimmy Lai, a strident critic of the Chinese communist regime, was arrested under the Chinese regime's new national security law on allegations of collusion with "foreign forces or external elements."
Wong had been a frequent visitor to Washington where he appealed to the U.S. Congress to support Hong Kong's democracy movement and counter Beijing's tightening grip over the global financial hub. His visits drew the wrath of Beijing, which says he is a "black hand" of foreign forces.
Wong disbanded his pro-democracy group Demosisto in June, just hours after China's parliament passed the national security law for Hong Kong, bypassing the city's local legislature.
News of the 23-year-old's arrest has been been met with sweeping criticism.
"The arrest of #JoshuaWong, one of the leading figures of the #HongKong democracy movement, is yet another example of China's attack on democracy and human rights through political persecution. #StandWithHongKong," the World Uyghur Congress tweeted.
British lawmaker Iain Duncan Smith described Wong's arrest as "naked political persecution."
"Only Kafka and authoritarians will be proud as @joshuawongcf is arrested—for violating laws that themselves violate #China #Hongkong intl #humanrights standards," Human Rights Watch China Director Sophie Richardson tweeted.
Reuters contributed to this report.