By Jeff Sandes
A Nigerian family that fled to Canada four years ago to escape persecution for their Christian faith is facing deportation after the federal government rejected their application to remain in Canada.
Morufat Ogunkoya, her husband, and their son and two daughters fled Nigeria in 2018 after she converted from Islam to Christianity and her father, a Muslim cleric, issued an Islamic legal ruling called fatwa calling for her death, according to one of the groups helping the family.
Toronto-based Rev. Majed El Shafie, founder of One Free World International, which works to protect the rights of religious minorities around the world, has been active in urging the feds to let the Ogunkoya family remain in Canada.
"They will kill … [Morufat]. Viktor [her son] will be recruited into extremist groups. And the two girls will be forced back into Islam, forced into marriage, and maybe even female genital mutilation," El Shafie said in an interview.
"Something tells me that our Canadian government does not understand or does not want to understand what will happen to this family."
Before fleeing Nigeria, Viktor was attacked and threatened with further violence unless the family returned to Islam, El Shafie said. Daughters Hephzibah and Rejoice were almost abducted twice, he said, and Morufat's mother was killed by poisoning after she warned Morufat about her father's fatwa. Morufat's father is affiliated with Nasril Fathia, an offshoot of the more widely known terrorist group Boko Haram, El Shafie said.
"Let's think about this for a minute," said El Shafie. "You are OK with sending a woman and her three kids back to Nigeria, where Christians are being killed every day. And especially because she's a Muslim converted to Christianity, so she's an infidel, not just a Christian. Does this make sense to you? Does this make sense to the government?"
Nigeria made headlines during the past year due to attacks on Christian communities and churches there, including a raid on June 5 when gunmen opened fire on a Catholic church and at least 50 people were killed.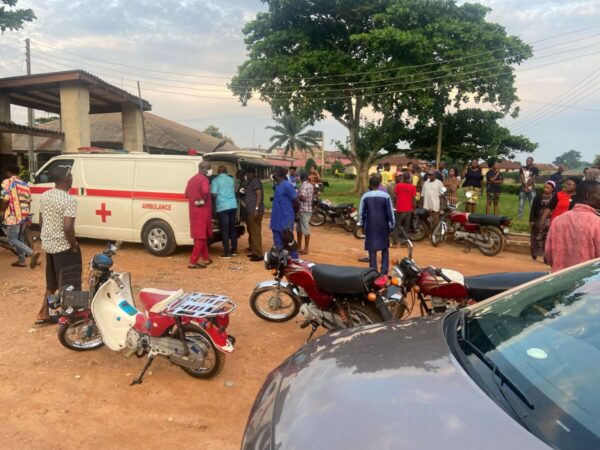 Legal Hurdles, Compassionate Need
Morufat and her children live in Welland, Ontario, near Niagara Falls. Her husband, who had also converted to Christianity, has been estranged from the family since before they arrived in Canada. The family first obtained visas to enter the United States. Then Morufat and the children crossed into Canada in January 2018 via an unmarked border crossing at Lacolle, Que.
The federal government denied the family's application for refugee status, with the immigration officer stating that the Ogunkoyas could return to a part of Nigeria where their risk of harm would be minimal.
A deportation order issued to the family in late 2019 forced Morufat and her children to go into hiding, with the help of the local community. It wasn't until November 2021 that they were able to come out of hiding while proceeding with their pre-removal risk assessment and humanitarian and compassionate application. However, that application was also denied.
Despite this, their lawyer Sam Plett is optimistic they will eventually succeed.
"Right now, we feel there are legal grounds for the court to intervene," Plett told The Epoch Times.
"Credibility was never used as a reason to deny their claim. But the finding at the time was that there was another city in their home country that is called an 'internal flight alternative.' When you make a refugee claim, you have to show that you would be at risk everywhere in the country, not just in the particular area where you resided prior to coming to Canada."
Still, Plett said Canada has an obligation under the Charter of Rights and Freedoms and the U.N.'s 1951 Refugee Convention not to remove people who face death, torture, or persecution, provided the applicants have remained in Canada longer than 12 months after their asylum claim has been rejected.
Therefore, if a federal court could stay the deportation until after their case is heard through a judicial review, Plett believes he can convince a judge the Ogunkoyas have a legal right to remain in Canada, and a compassionate need as well.
'A Ton of Support Letters, Signatures'
Plett and the groups helping the family had compiled hundreds of pages of evidence they say demonstrate the family's successful integration and positive value to the community. Yet they say the denial of the family's claim seemed to ignore much of this documentation.
"It was 1,500 pages with a ton of support letters, signatures—everything they did from working in the community to jobs to how they're involved in the church and everything," said Sonya Wierenga, executive director of Rose City Kids.
"They said there's no proof they are volunteering in the community, no proof that they're part of a church. But meanwhile, I had letters from the pastor, the secretary, and church members. So we concluded they didn't read it."
Wierenga and her organization have spearheaded the efforts to help the Ogunkoyas stay, including during the time when they were forced to hide in a church for almost two years.
The Epoch Times reached out multiple times to the minister of immigration, refugees and citizenship, Sean Fraser, but did not receive a response by press time.