China's continued insistence on implementing a strict "zero-COVID" policy to snuff out the CCP (Chinese Communist Party) virus is drawing widespread anger. In Shanghai, where residents have been under lockdown for days, some locals are displeased that officials have not given them enough food.
Tian Bei (a pseudonym), a resident living in Pudong, a district located east of Shanghai's Huangpu River, told The Epoch Times he received a bag of rice, a small bucket of cooking oil, and a pack of powder milk from his community officials on April 1. He lamented that his package of supplies did not even include vegetables.
Based on what he had seen and heard, Tian said that there were no set requirements on what Chinese officials must bring to residents confined to their homes. For example, he said he saw some people get a single carrot as the only vegetable in their supplies.
He recalled being told by officials to buy vegetables online, but said the price was high and the quality was poor.
"People hate it," Tian said, referring to how little residents have received from authorities. "Some people have been confined to their homes for over a month. Can you preserve vegetables for a month? Even if you have an empty refrigerator, there is only so much food you can store."
Tian said the issue would be even more challenging for big families, saying that a family of five or six people could finish all their food in just days. He criticized local officials for being disorganized, saying they should have put in place necessary measures in conjunction with the lockdown.
At the same time, on April 2, a video began trending on China's Twitter-like Weibo, with a man claiming to be a Shanghai resident saying he and those in his neighborhood all received a "huge gift bag" of meat and vegetables from local authorities. The man also claimed that he hears the sound of many residents "chopping meat" through his window.
The video has since been shared by many state-run media outlets and party agencies, including the prosecutor's office in eastern China's Jinan city. The Epoch Times cannot independently verify the claims made in the clip.
The video angered many netizens in Shanghai. On Weibo, one person asked when his community might receive such "huge gift bag."
Another person wrote: "Why do others have meat to eat, but we only have rice and oil, [and] drinking porridge is not going to be enough to fill the stomach."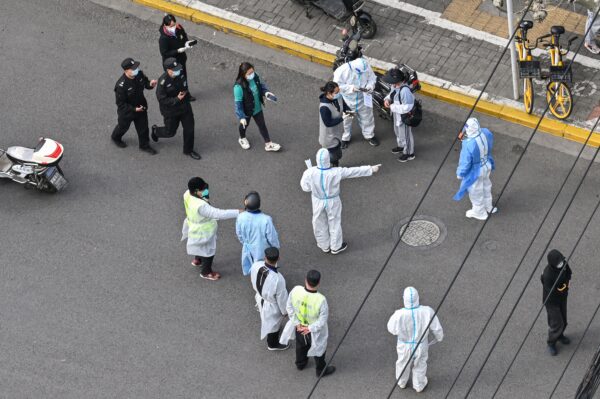 Mass Tests
For over a month now, China has been engulfed in a new wave of coronavirus cases owing to the highly transmissible Omicron variant of the CCP virus. On Sunday, Shanghai health officials reported a total of 8,226 new daily cases for April 2, a record high since March.
However, the actual number of infections in Shanghai and elsewhere in China could be much higher. Since the onset of the COVID-19 pandemic, experts and Chinese residents have repeatedly argued that Chinese officials were covering up infection and death figures.
Residents in Pudong were supposed to return to normal life on April 1, after a lockdown that began on March 28. Hours before the lockdown ended, local authorities extended lockdown measures for most of Pudong and nearby areas, without a clear end in sight.
Tian said his community was sealed off long before the official lockdown began on March 28. As for now, he suspects the lockdown in his area will end around April 10.
"If lockdown continues after that, there will be trouble and residents will rebel," he said.
He said that he has been tested four times for coronavirus, with nucleic acid tests and antigen kits.
To him, requiring asymptomatic people to take these tests has been a waste of money and medical resources.
What's worse, Tian suspects that many of the new infections were caused by people coming in close contact when they lined up to take government-mandated nucleic acid tests.
On April 3, Shanghai health officials announced a new order, demanding that its 26 million residents self-test using antigen kits on Sunday, before they undergo a new round of citywide compulsory nucleic acid tests beginning on Monday.
Mass testing and lockdowns are part of China's "zero-COVID" playbook to stamp out outbreaks. On April 2, Sun Chunlan, one of the Chinese regime's vice premiers, reaffirmed Beijing's commitment to such an approach by stressing "unswerving adherence" to these methods, according to China's state-run media.
Currently, residents living in western Shanghai are about halfway through a four-day lockdown that began on April 1. Chinese officials have said they plan to test 16 million residents in this region during the lockdown period.
Luo Ya and Ning Haizhong contributed to this report.