SAN FRANCISCO, Calif.—Watching Shen Yun Performing Arts was a very moving experience for Tanya Rebeca, a Romanian-born music producer, pianist, lyricist, and singer.
"It was breathtaking, it brought tears to my eyes many times, and gave me goosebumps," Rebeca said.
"Especially when the ladies were dancing, the way they are flowing, the way the music goes along with everything they're doing, the way they lift their bodies in the air—it's unbelievable."
And learning about the Chinese culture was fantastic, said the music producer.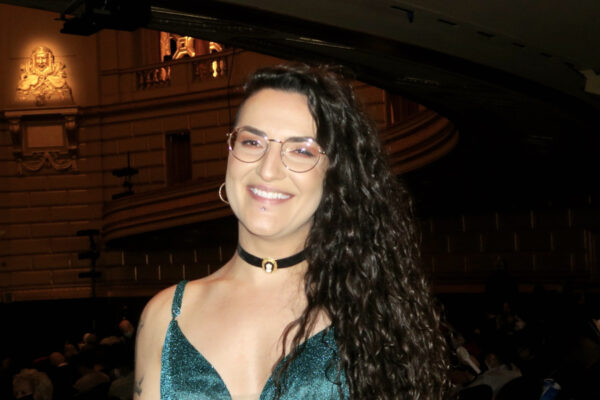 Shen Yun Performing Arts, a classical Chinese dance and music company, was performing at the War Memorial Opera House, San Francisco, California on Jan. 9.
"It seems unreal to watch people move their bodies so perfectly. It's majestic! It's like, wow. It's so perfect, it's like it's not real," said Rebeca.
Shen Yun's dances portray mini-dramas that depict stories from the past. The heroes express exalted virtues that characterize China's traditional culture but that are still relevant today.
The repertoire also includes dances such as 'Monkeying Around in Paradise,' which have a light-hearted comic nature, which delighted Rebeca.
"Listening here to the music, the way it goes perfectly with their movements—because music is such a big part for me—that's what makes me so emotional," she said.
Shen Yun allows the mind to expand, said Rebeca. It was an honor to experience such a performance, to learn about the Chinese culture, and to understand the communist regime's influence within its society, "where people are literally dying for their faith."
Rebeca was shocked to learn that Shen Yun was banned from performing in China.
'If … people around the world could experience [Shen Yun], it would change their lives," she said.
Shen Yun's orchestra is unique being a blend of traditional Eastern instruments and classical Western instruments, creating harmonies that capture the essence of both cultures.
Rebeca felt inspired by the orchestra. " I was thinking of the song that I'm working on right now, I was like, oh my gosh, I know exactly where I'm going to go—I want to try this, I want to try that. Look I'm getting goosebumps again," she said excitedly.
"When you walk [into the theatre] there's like a serenity. You feel like something amazing is going to happen. And then you sit down and then when the lights go down and everything is dark, as soon as the curtain goes up, and you see everything—so many colors, the music is so beautiful—it just takes your breath away. You're like, with your mouth open. It's breathtaking! It's one of the most beautiful things I have ever seen," was how Rebeca would describe Shen Yun to a friend.
"It's so refreshing and inspiring, It makes you want to live life differently," she said.
'The Costumes Were Incredible'
Gaylord Enns, a Christian minister, once saw Shen Yun live-streamed and knew he had to see it in person.
It was amazing—the dancers were skillful, the costumes were incredible and the orchestra was beautiful, Enns said.
According to traditional lore, the Chinese believe that their culture was a gift from heavenly beings. Enns recognized the parallels between the eternal or heavenly realm and the earthly realm.
"And I think there's just a desire for all of us to see beyond just what we can see with our physical eyes. I think it broadens our view of the world, and what the cultures of the world, and people of different ethnicities around the world have experienced over many years," said Enn.
Shen Yun's mission is to revive true traditional Chinese culture which was brought to the brink of extinction under the ruling communist regime.
"I think that's a noble thing. I think there's a lot to learn from our histories and our cultures," he said.
'It's Original, It's Authentic'
Also in the audience were Gary Bhej, a real estate investor, and his daughter Vicky, who is a real estate agent. Bhej had wanted to see Shen Yun for six years and the chance came in the form of a Christmas gift from his daughter and future son-in-law.
"It's awesome. Its history transcending into a few minutes, which is wonderful. Clarity is there for the layperson to understand. I absolutely loved that," said Bhej.
He was delighted with Shen Yun's mission of restoring China's traditional culture. "It should be restored all over the world, that is the old tradition. It's original, it's authentic, and especially for the younger generation, they need to know this," he said.
"And what a wonderful medium to have them learn this through dance theatre."
Shen Yun was absolutely stunning and flawless and the expression of the Chinese culture through dance was inspirational, said Bhej's daughter, Vicky.
Reporting by Michelle Yang and Diane Cordemans.