When critical care physician Dr. Matt Strauss took on the role of acting medical officer of health for Ontario's Haldimand-Norfolk region in September 2021, it didn't take long before media reports featuring mainly negative views about him began to proliferate.
"I had been very frank about my views about the pandemic," Strauss told The Epoch Times.
"In general, I think that Canada needed to take an approach that was based in courage and kindness and consent. And unfortunately, I think that our approach to the pandemic was largely characterized by fear, cruelty, and mandates."
But after months in the role and taking a different approach, Strauss says the numbers speak for themselves about which path has been the right one.
"In Haldimand-Norfolk, we've had to follow the provincial restrictions that are in place. But in many jurisdictions in Ontario, the local medical officers of health, my counterparts, have put restrictions in place beyond what the province has," he says.
"And I think that if those restrictions were effective, you wouldn't see the trend that we are seeing, which is that the COVID-19 mortality in Haldimand-Norfolk has not increased as rapidly as in neighbouring and comparable health units."
'Common Sense Approach'
Strauss says he was motivated to apply for the position of medical officer in the region after some county residents who were familiar with his views approached him.
"I think farmers are, because of what they do, blessed with a lot of common sense, and I think that sort of common sense approach was sought after in that sort of community," he said.
Strauss's application was accepted by the regional board of health, and he started his assignment in mid-September.
His official title is acting medical officer of health, since Strauss doesn't have a master's degree in public health. But he is not there just for a short interim, says Norfolk Mayor Kristal Chopp, noting that he is fully qualified for the role. Strauss, who has worked as a doctor for many years, was chief of the ICU at the hospital he worked at, as well as an assistant professor of medicine at Queen's University.
After Strauss's appointment, some media outlets published articles and columns critical of him with predictions that he will fail, with some even carrying false statements for which they had to issue corrections. Ontario Liberal MPP John Fraser asked the Ford government to reverse his appointment, which it refused to do.
"Dr. Strauss has publicly opposed vital public health measures that protect the people of Ontario, which disqualifies him from being a medical officer of health," Ontario Liberals said in September 2021.
Mayor Chopp, who serves as the chair of the board of health in Norfolk and Haldimand counties, says that from what she hears from members of the community, they're happy with Strauss, adding that she "stands behind him 100 percent."
"Here's a guy that people feel they can trust. He's not pushing lockdowns, he's not pushing some of these public health measures that we all knew weren't working and were causing additional harm," she said in an interview.
Chopp says what sets Strauss apart from many other authorities making public health decisions is that he bases his decisions on evidence.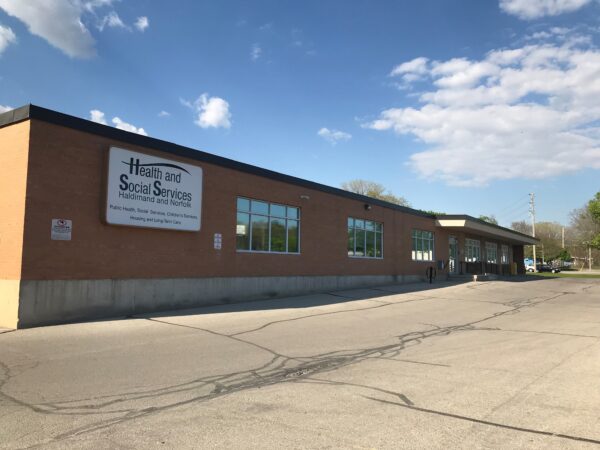 Norfolk Councillor Chris Van Paassen, who also sits on the health board, echoes that observation.
"He draws his conclusions from research he's done," Van Paassen said in an interview. "I think he's doing an excellent job."
Van Paassen notes that the vaccination rate in the region has gone up since Strauss has taken on the role, concluding that "a lot of people liked his approach of the carrot rather than the stick."
The Epoch Times contacted Councillor Amy Martin, a member of the health board opposed to Strauss's appointment, for an interview, but didn't hear back.
COVID Stats
The rise in the number of deaths per 100,000 population in the Haldimand-Norfolk region from May 10, 2022, compared to Sept. 14, 2021, when Strauss became medical officer, was 61 percent, among the lowest in the neighbouring regions and areas with comparable population composition.
The nearby regions with a lower rate in the same period were Niagara Region at 32 percent and Hamilton at 37 percent. But Brant County (172 percent), the Southwestern region (95 percent), Chatham-Kent (261 percent), Huron Perth District (71 percent), and Lambton (120 percent) all had higher rates.
Strauss says he's not crediting himself with the relatively better rate in his health unit and can't explain the reasons behind it, but he says the data shows that his approach didn't cause the doom and gloom outcome that those commenting in media reports had predicted.
"In many respects, the virus is going to do what it was going to do," he says.
"The important thing is to get vaccinated and to get proper treatment now with Paxlovid if you are a high-risk individual who gets the disease. I don't think that mandates have been effective. I don't think that lockdowns, quarantines, or school dismissals were effective."
'Inconsistencies'
Strauss says it took "a lot of common sense and courage" for the community and its leadership to support his appointment and resist the "unfair, and frankly, ridiculous things the media and individuals on social media were saying about me."
"Every interaction that I've had in person since coming to Haldimand-Norfolk has been wonderful, welcoming, supporting, and I'm so glad that social media is in fact not real life."
Mayor Chopp, who also works as a commercial airline pilot, says what contributed to her decision to give her vote to Strauss was the fact that she has travelled to many different parts of the world during the pandemic and seen that Canada's approach to managing the crisis was different in many cases.
"With very few exceptions, the measures that were in place [in other parts of the world] were nothing compared to what was going on at home," she said, referring to long periods of lockdowns in Ontario and elsewhere in the country.
"There were so many inconsistencies throughout the entire pandemic: You could buy clothing at a Joe Fresh, but you couldn't go to your small local retail store."
She says the lesson to draw from the experience is that authorities should never be making decisions because "other people are doing it" without any supporting evidence.
"That has been the theme of all of this—everyone making decisions with no supporting evidence, just because other people are doing it."
Councillor Van Paassen says ever since the pandemic began, there has been a lot of focus on COVID-19 but not on other aspects such as "emotional health and other aspects of physical health."
"If you look at the number of suicides, it has gone up. The cases of abuse have gone up," he says.
"You gain a little by the lockdown, but you lose in other ways. And when you look at the whole picture, is there really any net benefit to doing it one way as opposed to the other? And that's what Strauss looked at, and that's where he drew his conclusion from."
Harms and Benefits
Strauss says that when it comes to deciding on health measures, his primary "philosophical position" is one of "skepticism."
He says that based on his experience as an ICU doctor and other work experience as an MD, he knows that in many cases trials and evidence prove that what was once thought of as an effective health measure could in fact be ineffective.
"It's human nature to hope that any idea we have to influence the course of a disease is going to be effective, but unfortunately, it's a sad fact of biology that usually under proper experimental circumstances, it doesn't work," he says.
When it comes to making decisions, Strauss says he looks at the best available data and tries to evaluate both the benefits as well as the harms of a particular approach.
"I think a lot of times, harms that are more difficult to calculate are ignored. I've tried to keep that as part of my decision-making," he says.
"I've seen very unfortunate things with respect to mental health outcomes, or the effect of lockdowns in nursing homes, some of which resulted in death. Those don't show up on [news websites], those don't show up on COVID-19 statistics, but they still really matter. So if you were starving in a nursing home and wound up in the hospital under my care, if I don't talk about that, nobody knows about that."
He says when considering the health of an individual, a range of aspects should be considered, not just one.
"I don't think that you have health if you can't go to your dad's funeral, if your wedding is cancelled, if your prom is cancelled, if your sports league is cancelled," he said.
"The purpose of life is not to stay alive as long as possible. The purpose of life is to live it."
Editor's note: The caption of the photo of a farm in Norfolk in this story misstated the year. The photo was in fact taken in 2020. The Epoch Times regrets the error.