PITTSBURGH, Pennsylvania—Janet Kirk, not concerned about pandemic fears, attended Shen Yun Performing Arts thanks to a gift from a friend who had bought her the tickets for her birthday.
While many people are hesitant about attending big events because of the pandemic, Janet declared that she was not in the least worried, saying, "I'm not worried about the pandemic at all."
Together with her husband Andrew, they watched Shen Yun at The Benedum Center for the Performing Arts in Pittsburgh.
For Mr. Kirk, the pandemic was something you had to learn to live with.
Ms. Kirk, a managing director and financial adviser, described her experience.
She had been inspired by the dance "Plum Blossoms in Spring."
"It's just absolutely fabulous! The plum blossoms were amazing! They're just absolutely spectacular,"  she said.
Shen Yun's mission is to bring back the authentic traditional Chinese culture which was nearly brought to extinction under the Chinese communist regime.
While the company presents many ancient stories, it also portrays, through dance, human rights abuses carried out today by the Chinese communist regime.
Mr. Kirk was surprised to see that Shen Yun's dance repertories included stories about the brutal persecution of Falun Gong, a peaceful spiritual practice based on the principles of truthfulness, compassion, and tolerance.
"Things aren't always what they seem to be," he said, adding that what is happening in China is also happening in the United States. "[Shen Yun] isn't just dancing and singing … it's telling you something," he said.
Tradition and Freedom
Also in the audience were Anne and Joe Hassenfeldt. Anne Hassenfeldt, a senior business associate; and her husband, Joe, a senior scientist, were watching Shen Yun for the first time.
Neither of them were daunted by the prospect of the pandemic.
"The pandemic was over," said Ms. Hassenfeldt, "It is just a common cold now."
"It's worth to come and see the performance …  but to live in fear of, what again, we think is not at this point in time, severe," should not be a reason to deter people from seeing Shen Yun, said Mr. Hassenfeldt.
"Oh! It's beautiful. It's absolutely amazing. This is our first time seeing it, and I'm very impressed," Ms. Hassenfeldt said.
She summed up the essence of Shen Yun.
"[It's about] tradition and freedom—the lesson is there,' she said.
Shen Yun was very meaningful for Ms. Hassenfeldt.
"My grandparents were born in China, and they came over to the United States and so my grandmother never went back to China because of the communism …  the freedoms we have today really speak to me," she said.
Shen Yun's mission resonated with her: "We just need to stay true to our roots and keep to our cultures and keep those traditions passing on from generation to generation."
Mr. Hassenfeldt said: "And so many of us don't appreciate it like [the producers of Shen Yun] appreciate it, and they're just going down the same road that Mao took people down. If you don't remember the beauty, the art, then it all gets painted overall grey."
Shen Yun Tickets a Gift
Marylene Gingras-Roy, a violist in the Pittsburgh Symphony Orchestra, was also in the audience.
Gingras-Roy is a chamber music performer and teaches at Duquesne University, at her private home studio, and is a viola coach for the Three Rivers Young Peoples Orchestra and the Pittsburgh Youth Symphony.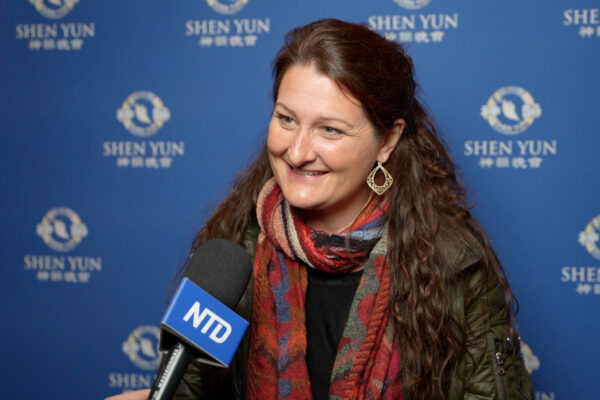 She had been gifted tickets to see Shen Yun by two of her students.
"I absolutely loved it," Ms. Gingras-Roy said.
"The music is beautiful. The orchestra sounded amazing. And I really enjoy the erhu player," she said.
The orchestra was harmonious, said Ms. Gingras-Roy. Shen Yun's orchestra is unique in that it combines the sounds from classical Western and traditional Eastern instruments.
The dancers, the colorful costumes, and the graphics were really beautiful, she said.
"I see elegance and [the movements are] very delicate. All the movements are just really gorgeous. They're so synchronized … I can tell they work really hard to be together," Ms. Gingras-Roy said.
Reporting by Lily Sun, NTD, and Diane Cordemans.