The baby formula shortage is intensifying in the United States, according to new Datasembly numbers.
The retail information provider reported that out-of-stock (OOS) rates continue to climb nationwide, rising to 43 percent in the week ending May 8. This is up from the 30 to 40 percent readings in April.
"Unfortunately, baby formula out-of-stock levels have continued to soar since the beginning of April, and we see no indication of a slowdown," Ben Reich, CEO of Datasembly, told The Epoch Times. "Baby formula out-of-stock levels have reached 43 percent nationwide and continue demonstrating higher out-of-stock levels than other categories."
Data as of May 1 show that nine states have OOS rates above 50 percent, including Tennessee (54.7 percent), Delaware (54.5 percent), Texas (52 percent), Montana (51 percent), and Nevada (51 percent). Jurisdictions with the lowest OOS rates were Colorado (26.3 percent), New Mexico (29 percent), and Indiana (29.7 percent).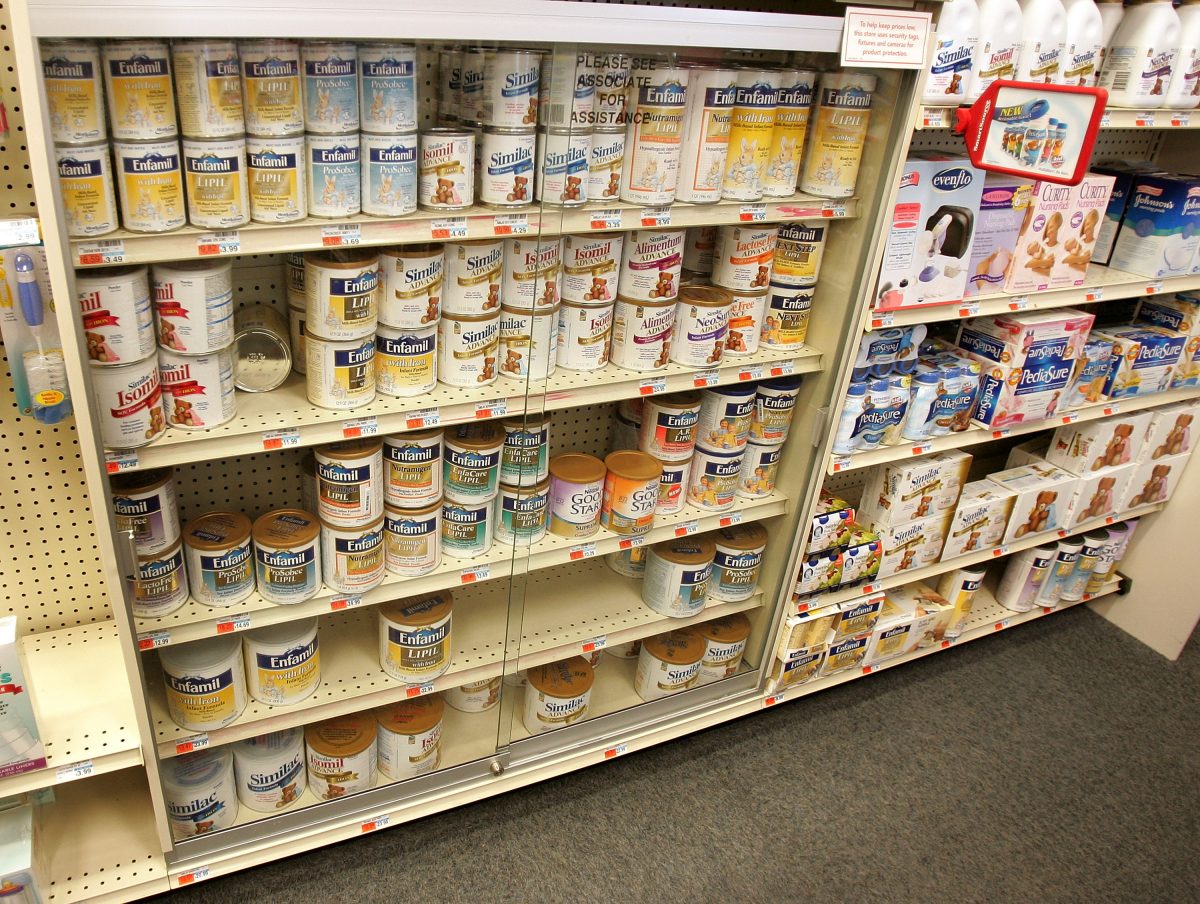 Across the United States, multiple retailers including CVS, Kroger, Target, and Walgreens, have applied limits on purchases of infant formula.
Last month, CVS limited in-store and online purchases of baby formula to three per order. Kroger installed a limit of four products per customer. Target and Walgreens have maintained restrictions for several weeks.
Media reports suggest that some parents are responding to the shortages by producing their own, watering down current supplies, and rationing formula.
The FDA has discouraged parents from making formula at home due to "very serious health concerns" for babies.
"The potential problems associated with errors in selecting and combining the ingredients for the formula are very serious and range from severe nutritional imbalances to unsafe products that can harm infants," the agency noted.
Health experts warn that too much water for infants under six months could trigger seizures and brain swelling and dilute the calories.
As of 2018, four companies control close to 90 percent of the market: Abbott, Reckitt Benckiser, Nestlé, and Perrigo.
How Did This Formula Crisis Begin?
Earlier this year, Abbott Laboratories, a leading baby formula maker, recalled products sold under the Alimentum, EleCare, and Similac brands that were produced at a Michigan facility. Four children had become sick with bacterial infections, resulting in two deaths. This prompted public health authorities to encourage shoppers to avoid buying formulas tied to the plant, although Abbott doesn't believe there is a link between these illnesses and its formulas.
In addition to Abbott's recall, the baby formula shortage has been exacerbated by global supply chain snafus, the shifts in pandemic-related consumer patterns, and soaring price inflation worldwide.
At the beginning of the COVID-19 public health crisis, many parents hoarded containers of baby formula much in the same way consumers accumulated large amounts of toilet paper and paper towels.
In 2021, manufacturers noticed that demand had been sliding. They responded by curbing production. Today, infant formula demand is surging once again as shortage fears grow and breastfeeding rates fall.
According to the Centers for Disease Control and Prevention (CDC), only one-quarter of babies born in 2018 were breastfed exclusively in their first six months.
In recent years, the prevalence of breastmilk substitutes has been a source of controversy among public health experts.
"The promotion of commercial milk formulas should have been terminated decades ago," said Dr. Francesco Branca, director of the WHO Nutrition and Food Safety Department, in a statement last month. "The fact that formula milk companies are now employing even more powerful and insidious marketing techniques to drive up their sales is inexcusable and must be stopped."
The global formula milk industry is now worth $55 billion.
Meanwhile, Abbott announced that it will work closely with the FDA to restart operations within two weeks. The company projects that it could take six to eight weeks to get its products back on store shelves.
'Life and Death'
The U.S. government has been scrambling to resolve the issue.
President Joe Biden met with infant formula manufacturers and retailers on May 12 to gather updates on intensifying shortages across the country.
Following the meeting, the president announced additional steps to address the issue to get more infant formula on store shelves faster, including reducing red tape and boosting supply through increased imports. In addition, he urged the Federal Trade Commission and state attorneys general to tighten down on any infant formula price gouging.
Earlier, more than 100 House Republicans urged the administration and the FDA in a letter to release data on the nationwide shortages and provide specific details on how they plan to address the issue.
"This issue is a matter of life and death, and it is time this administration treats it with the appropriate urgency it deserves," the 106 Republican lawmakers wrote.
Rep. Elise Stefanik (R-N.Y.) says this is an example of Biden's "failed leadership," adding that the FDA didn't have a plan to figure out how to address the supply chain crisis aspect of baby formula manufacturing.
"But it even goes back earlier than that, as a result of just the labor shortage in this country, the lack of accessing basic materials that are part of the manufacturing process," she told the host of NTD's "Capitol Report," Steve Lance. "But what's really struck me is the sheer incompetence of Joe Biden and House Democrats and frankly, failure to address any aspect of this."
FDA Commissioner Robert Califf assured the public that "we are doing everything in our power to ensure there is adequate product available where and when they need it."
Emel Akan contributed to this report.