By Aldgra Fredly
Eighty percent of people in China have been infected with COVID-19 amid Lunar New Year celebrations, a top Chinese health official said on Jan. 21.
China has seen a surge in COVID-19 cases across the country. Most of the population has been infected, according to officials and studies, and crematoriums and hospitals have been overwhelmed. But the regime's continuing coverup of the death toll makes it difficult to ascertain the true scale of the outbreak.
Wu Zunyou, chief epidemiologist of China's Disease Control and Prevention Center, stated in a Weibo post that 80 percent of the population had been infected in the latest outbreak. His comment aligns with statements made by other Chinese officials in recent weeks and a study showing that 900 million Chinese had been infected.
The explosive outbreak raised concerns about the possibility of a second wave in the coming months amid the Lunar New Year travel rush. The Ministry of Transport expected more than 5 billion passenger trips during the festive season.
More than 1.1 million people in China traveled by air nationwide on Jan. 20, and 800,000 people took domestic flights on Lunar New Year's Eve on Jan. 21, double the number from the previous year, South China Morning Post reported.
Overcrowded Hospitals, Funeral Homes
Overcrowded hospitals and funeral homes suggest that China is battling a severe outbreak with a high death toll.
Lew Mon-hung, a former member of the CCP's political advisory body, said that "all outpatient departments and emergency departments of hospitals are crowded with people and with no beds left for people to stay in the hospital."
"The funeral homes are overwhelmed, and the dead bodies pile up," Lew said, according to an earlier report by The Epoch Times.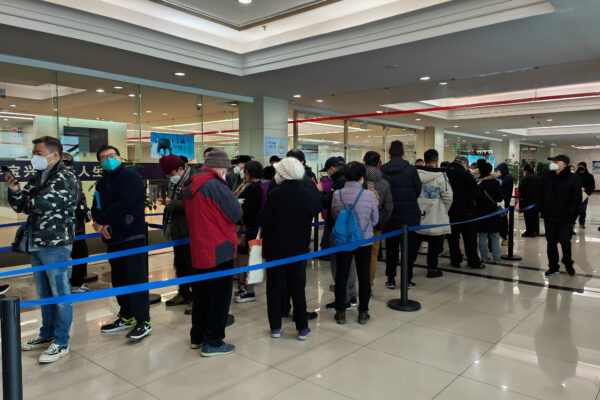 He pointed out that the daily infection rate has increased to 1 million in Zhejiang Province. Officials in Qingdao city acknowledged that its daily infection rate had increased to 500,000.
The confirmed cases in Dongguan city in central Guangdong Province increased by 250 million to 300 million. The densely populated provinces of Sichuan and Henan have recorded an infection rate of more than 80 percent.
"My relatives, my brother and sister, and my mother in Guangzhou were all infected. A one- to two-kilometer line [about one mile] was outside the Guangzhou Galaxy Martyr Cemetery, waiting to register for cremation," Lew said.
"Not only did the people form long lines outside the funeral homes in different places in China, but they also needed to wait half a month, or even over a month, to get their relatives to be cremated."
Lew claimed that there is currently a coffin shortage in China. He said that normal civilians, who were forced to turn to scalpers, "had to pay 38,500 yuan [$5,700] to move the body to a funeral home."
Families are sometimes forced to store the corpses of loved ones at home or in their vehicles, an anonymous Shanghai resident told The Epoch Times. Shanghai resident Zhang Pei (a pseudonym) told The Epoch Times that a friend paid an extra $5,000 to obtain timely cremation for an elderly family member.
Shanghai resident Wu Fangyan (a pseudonym) said on Jan. 13 that "hospitals are still crowded. Only one medication is given for each visit, and the one medication does not reduce the fever, so you must go back in the afternoon and wait in line for hours."
Wu expressed frustration that doctors are unwilling to give more than one dose of medicine.
"Sometimes you can't even get [one dose of] medicine after lining up for hours."
"The government's attitude toward us is to ignore whether we can survive or not."  The strong survive and the rest die, Wu said.
Sherry Lin, Nathan Amery, Ellen Wan, Kathleen Li, and Lynn Xu contributed to this report.