The Chinese communist regime has put the world largest wholesale hub, Yiwu city in east China, under semi lockdown due to a new outbreak of COVID-19. Meanwhile, "China's Hawaii" in the South China Sea has also locked down due to a sudden outbreak. The new lockdowns have renewed concerns for disruptions to global trade and supply chains.
According to official data, since new infections were reported on Aug. 2, COVID-19 has quickly spread in Yiwu, a city of 1.85 million, and to many neighboring counties and cities. A total of 135 cases were officially reported a few days later by Aug. 4.
Since the beginning of the pandemic, the Chinese regime has concealed the real scale of its local outbreaks and being suspected by the outside world for underreporting the number of cases in the country.
The rapid spread in this wave of COVID-19 infections in the city is caused by the more infectious Omicron variant BA.5.2.
Yiwu authorities ordered a series of control measures on Aug. 4, putting the city in an indefinite semi-lockdown status. All residents are required to take COVID-19 PCR tests, are prohibited from entering and leaving their residential communities unless deemed necessary by the authorities; and must hold a negative COVID-19 test result from within the last 24 hours to enter a public place. Meanwhile, public transportation and non-essential services have been suspended, and most tourist areas are closed.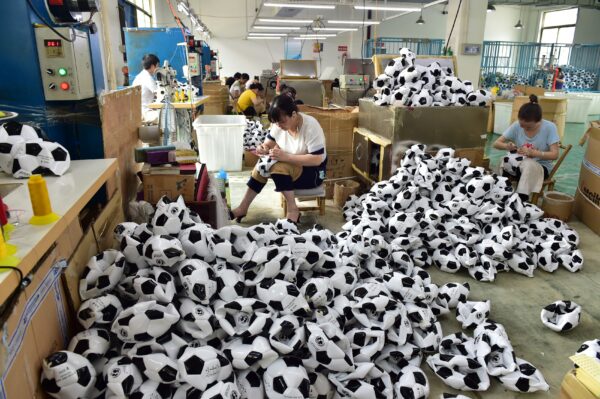 Yiwu City has been an important port and export center for various small commodities around the world for many years. It's the world largest wholesale hub. There are more than 2 million small and medium-sized enterprises in mainland China with business connections to Yiwu.
Economic Losses, Disruptions to Global Supply Chain
The indefinite lockdown of the city has raised concerns that the Chinese Communist Party's (CCP) COVID-19 restrictions will further aggravate China's economic downturn and disrupt global supply chains, especially that of small commodities.
Xie Zhanwen (pseudonym), the owner of Qingkou Baolong Plaza in Yiwu, told The Epoch Times that infection cases were found in Qingkou Night Market and that the whole area has been locked down. The authorities haven't told local businesses anything about how long the closure will be in place.
Zhang Xiaofeng (pseudonym), a seller at the Small Commodity City in Yiwu, said, "The outbreak this time is serious, and there are many confirmed cases in Jiangdong district. Most businesses in Yiwu Small Commodity City are temporarily shut down, and the economic loss is huge. Dining-in is prohibited, but takeaways are still allowed, for now."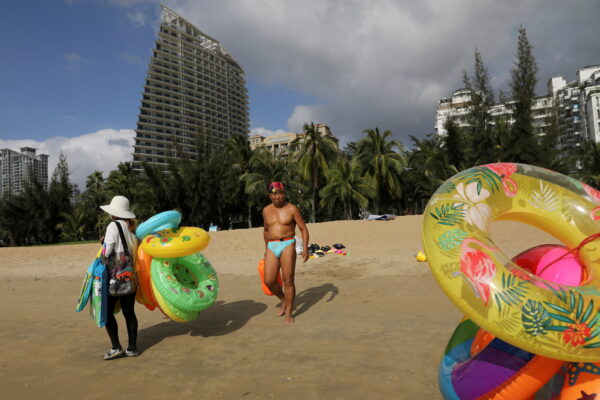 In the meantime, Omicron variant BA.5.1.3 has caused a rapid outbreak of COVID-19 in Sanya, a famous resort town in China known as "China's Hawaii" and an important port of the South China Sea since Aug. 4. Authorities have locked down the city and shut down all inbound and outbound flights on Aug. 6, leaving 80,000 tourists are stranded in the city. The "zero-COVID" measures are expected to cause further damage to China's declining economy as well as international trade.
Adding to that, tensions across the Taiwan Strait have been escalating as the socialist CCP pushes for its "One China" principle to the exclusion of liberal democratic Taiwan, which could further damage global trade and supply chains. Following the historic visit of Nancy Pelosi, speaker of the U.S. House of Representatives, to Taiwan, the CCP has been conducting military drills, sending warships to the Taiwan Strait, and launching missiles in the South China sea and international waters, including inside Japan's EEZ (Exclusive Economic Zone).
The military drills have been disrupting the key maritime shipping routes for cargo and commodities in the region, as ships have to navigate around the Strait in surrounding waters.
Xu Meng'er and Hong Ning contributed to the report.