By Sophia Lam
While deaths in Chinese major cities are frequently reported by the media, the pandemic situation in rural and remote regions of the country attracts little attention.
Recent online posts and video clips, short-lived due to the Chinese Communist Party's (CCP) strict censorship of information, show a sad situation in the countryside.
In one video viewed by The Epoch Times, dozens of coffins are lined up in a hall, waiting to be carried to local graveyards. People are crowded on a countryside road, and it is impossible to see the end of the queue. Someone is heard saying in the local dialect: "There is no rush, people!"
In another short video, people from different families are seen in funeral ceremonies, in which one closely follows the other.
Residents claim the scenes in the video clips have become common recently in Shaoyang's counties and rural areas.
Many Elderly People Die: Resident
"In this small city of ours, over 1,000 people have died since December, and many of them are elderly people," Tang Ling, a resident of Shaoyang, a city in China's central Hunan Province, told the Chinese language edition of The Epoch Times on Jan. 18 in a phone interview.
According to its official website, Shaoyang is a mountainous prefecture-level city located in the southwest of the province, administering three districts, two county-level cities, and seven counties, and having a population of 8.223 million as of the end of 2021.
Tang lives in a county that has about 600,000 residents. He said that the 1,000 death tally was only an estimate, as the government doesn't publish a true number. People never know the true death toll, which could be even more than the estimate, according to Tang.
"We see people every day carrying coffins up the hill to local graveyards; and the prices of coffins are at least doubled the previous prices, with some even four times higher than before the recent outbreak," Tang said.
He said that he knew a family in which two brothers in their 50s died and another family that lost the parents and a son. At one point, he saw at least four families on the same street holding funeral ceremonies, Tang added.
Tang said that local people still follow their ancient traditions and bury their loved ones instead of cremating them.
Shaoyang is home to 44 ethnic groups, according to the official website of the local government. In a 2021 work report, the municipal civil affairs bureau admitted that "traditional burial customs are difficult to change" and that, while promoting cremations, it had to "respect the burial customs of 10 ethnic minorities including Hui, Uygur, Kazakh, Kirgiz, Uzbek, Tajik, Tatar, Salar, Dongxiang, and Bao'an."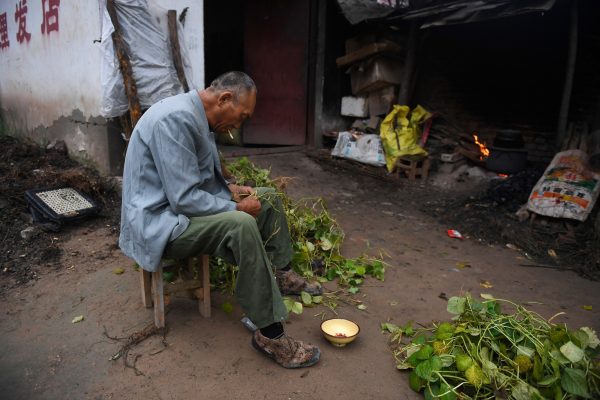 With burial ceremonies, locals normally hold a three-to-five-day funeral ceremony for their deceased loved ones, after which they carry the dead in a coffin to the grave on a nearby hill chosen by a feng shui expert.
Tang said that he has seen many rural patients with COVID infections amid the recent outbreak literally wait for their deaths due to a lack of medical resources and medical insurance. He is worried that, with the approaching Chinese New Year, people who work in larger cities will return home for the family reunion during the new year's holidays, resulting in another possible infection peak.
Too Many Deaths in the County: Resident
Tang's hometown is among those regions in Hunan hit hard by the recent sweeping pandemic.
Li Chun, a resident of the remote village of Shaoyang, said that his county has only roughly 100,000 residents. "But we see so many deaths every day, six to eight deaths, in our county seat," Li told The Epoch Times on Jan. 17. He said that during the peak of deaths, sheds for funeral ceremonies were only about 600 feet apart from one another in his county's downtown area.
Li said that his family used to have five senior parents. His brother-in-law just lost his mother days ago. Li's father is hospitalized and his lungs have lost all their functioning, Li said.
"He is now relying on oxygen therapy to maintain his life; he could die at any time," Li said sadly.
With so many recent deaths, the county government lacks land for the increasing demand for graves and is now building a local crematory to burn bodies, Li told The Epoch Times.
Grudge Against the CCP Over Biased Medical Resources: Resident
Li Xiang, a resident of Shaoyang, told The Epoch Times in an interview on Jan. 17 that smaller cities are assigned much fewer medical resources, so the villages and rural regions are likely to be treated the same. He blasted the communist regime for the differences in level of health care in the rural areas compared to the urban regions.
"There has been soaring resentment [against the communist regime] among Chinese people. Even government employees hold a grudge against the three-year-long zero-COVID measures because their families also suffered from the lockdowns and their parents passed away during these three years," Li said.
"A friend of mine, who is a government official, told me: 'The [Chinese] communist party is going to collapse soon.'" Li added.
The Chinese communist regime's central planning of resources, including medical, educational, and welfare resources. has been biased against the rural population.
According to Radio Free Asia (RFA) in January, 77 percent of China's intensive care beds are allocated to tertiary medical institutions located in provincial capitals and prefecture-level cities, and the other 23 percent of beds are basically placed in large cities as well. RFA reported that 68 percent of the seniors aged 65 and above live in towns and villages, whose children don't live with them. Not many serious cases are transferred to county hospitals, and very few are transferred to tertiary hospitals. If China had spent even one percent of its zero-COVID expenditures on rural medical construction, some rural deaths could have been avoided, according to RFA.
Lin Cenxin and Yi Ru contributed to this report.