'Sneaky' additions to Bill C-21 will criminalize firearms owners, Conservatives say
By Marnie Cathcart
Conservative MP and public safety critic Raquel Dancho today called the Liberal government's last-minute amendments to their gun control legislation, Bill C-21, "sneaky" and "the largest assault on hunters in Canadian history."
"They're going after Grandpa Joe's hunting rifle instead of gangsters in Toronto," Dancho told reporters in Ottawa on Nov. 24.
She told a House committee the same day that the amendments amounted to "an all-out war on hunters," and suggested the Trudeau government ultimately wants the ability to "ban every single firearm model in this country."
The new amendments are before the House of Commons Standing Committee on Public Safety and National Security (SECU), for a final clause-by-clause review, the last step before going to the Senate for final approval.
A 310-page list of the sweeping amendments was made public on Nov. 24. If passed, an additional 300 to 400 rifles and shotguns, most of which are presently legal and unregistered, will be immediately illegal to possess or use. This is in addition to more than 1,500 firearms first proposed to be banned and prohibited in the May 2020 initial draft of gun bill C-21.
The amendments, if passed, would prohibit all semi-automatic centre-fire rifles (ammo which has the primer in the centre of the cartridge, versus rim-fire which has the primer in the rim) and semi-auto shotguns, legally purchased and owned, sometimes passed down as family heirlooms. Canada has roughly 2.2 million licensed firearms owners that will be affected by the proposed ban.
The amendments themselves have never been debated in the House of Commons, a point repeatedly mentioned at the SECU meeting on Nov. 24.
Rocket Launchers, .22 'Plinkers' Banned
The list of proposed banned guns includes a wide range of weapons, for example, missile launchers like the M47 Dragon, a giant, shoulder-fired, portable anti-tank guided missile, and the RPG-76 Komar, a rocket-propelled grenade launcher, which ordinary Canadians might find difficult to purchase.
The amendments would add the popular Ruger PC Carbine to the list, a lightweight pistol-calibre rifle loading 9mm ammo, that Canadians could purchase from the counter at their local Cabela's or independent gun store.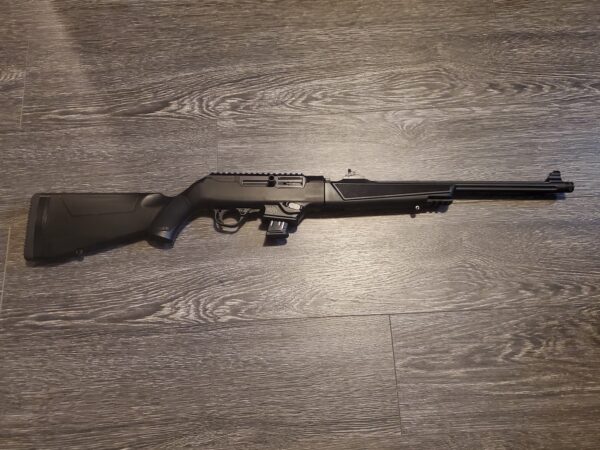 Dancho said the prohibition would also ban hundreds of models of common hunting rifles, made by Remington, Benelli, Winchester, Browning, which manufacturers make to "cater to hunters." They don't cater to "weapons of war," said Dancho.
Liberal MP Pam Damoff, parliamentary secretary to Public Safety Minister Marco Mendicino, told the committee that "These are guns designed for war, military-style assault weapons, weapons designed for the battlefield."
She said that there needs to be "a clear definition in the Criminal Code for weapons that have no place in our society" and no loopholes for gun manufacturers to work around the prohibited list.
The amendments would allow governments to ban all future variants of these guns. Variants have no legal definition, the committee heard, but will be based on the government's "technical experts." They would also make any firearm that can hold a detachable magazine illegal. An evergreen definition would be added to the Criminal Code to cover what the government will define as a prohibited, "assault-style" firearm.
During the committee meeting, Acting Director General, Firearms Policy, Rachel Mainville-Dale, said the amendments advance the government's "policy objective of enhancing public safety," by banning "assault-style" firearms, which "pose a significant risk to public safety."
'Assault Weapon'
Conservative MP Dane Lloyd told the committee that "There is no definition of a military-style assault weapon, that's a term made up by this government."
Mainville-Dale responded, "There is no definition of a military-style assault weapon in law."
She said the government made the determination of an 'assault' weapon "based on the ability of these firearms to perform sustained semi-automatic rapid fire," that they are "based on a tactical or military design," and are "capable of holding a large magazine" with 5 or more rounds of ammunition.
The list of proposed additional firearms to be banned includes an ISSC MK22—a semi-automatic rimfire 22LR rifle, also known as a "plinker," commonly used for bird hunting and small rodents like gophers—and a Mossberg .22 with a wood stock. Also on the list is the SKS, one of the most widely used centre-fire, semi-automatic rifles in Canada, with an estimated 200,000 owners. SKS' are particularly used in the indigenous community, said Dancho.
These are the guns the Liberal government is likening "to a weapon of war," she said.
Dancho said there would also be no buyback for semi-automatic guns that are prohibited.
"We're talking bird hunters… [who] use semi-automatic shotguns," she said. "This is no longer about sports shooters and their handguns. This is about hunters and farmers who use semi-automatic shotguns to go geese hunting."
"With this amendment, there will be well over a million, likely more, semi-automatic, perfectly reasonable, standard hunting guns that are banned," Dancho said, noting many hunters use semi-automatic shotguns or rifles.
Guns Are 'Tools'
Dancho gave an example of the "utility factor" she says was being "discounted" in the proposed ban, citing the need for farmers to use guns to deal with dangerous animals such as wild boars, an invasive species spreading into southern Sask. and Alta.
"If you are charged by a pack of wild boars, you better hope you have a semi-automatic hunting rifle with you," she said.
"You better hope that you're able to defend your livestock, your farm dogs, and your kids that are with you. There is a utility factor in this that's being completely discounted," added Dancho, who said guns are "tools."
In Canada, semi-automatic, centre-fire long guns (rifles) and handguns are already limited by law to a maximum of five rounds in a magazine. Many of the guns on the proposed amendment list are presently unrestricted, and only required a firearms license (PAL) to own.
Lloyd said the amendments would make those types of guns immediately prohibited, which would turn millions of gun owners into criminals for owning or using previously acquired, legally-owned, personal property.
An additional point of the proposed amendment alters the Criminal Code so that firearm parts, such as a barrel or a slide for a handgun could only be transferred legally to an individual with a firearms license.