By Andrew Chen
The RCMP is enlisting witnesses in its investigation of reports of unofficial Chinese police stations operating in Ontario, as a number of countries around the world are probing similar interference activities from Beijing.
"Foreign Actor Interference is illegal activity which targets Canadian interests, or interferes in Canadian society and threatens Canada's national security. It includes attempts to threaten, harass, influence, intimidate, corrupt or discredit individuals, organizations and governments to further the interests of a foreign country," RCMP said in a release on Nov. 22.
The RCMP says it's aware of reports that the police service stations are specifically targeting the Chinese diaspora in Canada, and it's investigating to determine any criminality related to this matter.
"Our aim is to prevent intimidation, threats and harassment as well as any form of harm initiated on behalf of a foreign entity being applied to any community in Canada," RCMP said.
"As part of the ongoing investigation, the RCMP is looking to speak with anyone who wishes to provide information about the reported 'police service stations' or who feels threatened, harassed, or intimidated by a person associated to these, or similar, locations."
Individuals are encouraged to report any interference activity to the RCMP's National Security Information Network.
Chinese Police Outposts
The alleged Chinese police service stations came to public attention following a September report from a Spain-based human rights NGO, Safeguard Defenders. Initially intended to examine Beijing's transnational repression and long-arm policing, the report identified over 50 Chinese police outposts around the world run by two provincial-level police agencies in China.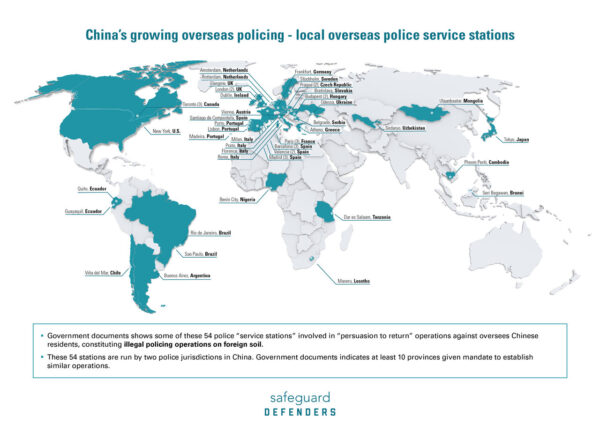 The report said the stations, also referred to as "110 overseas"—named after the police emergency phone number in China, 110—have been used to support an anti-telecommunications fraud campaign. The campaign has reportedly led to an estimated 230,000 overseas Chinese nationals being "persuaded" to return to China to face criminal charges between April 2021 and July 2022, according to Chinese authorities.
Safeguard Defenders said in its report that "persuasion to return" is a key method of the Chinese regime's "involuntary returns" operations, which include its "Operation Fox Hunt" and the broader "Sky Net" campaign—a covert global anti-corruption operation introduced by Chinese leader Xi Jinping.
The report says the method entails either "tracking down of the target's family in China in order to pressure them through means of intimidation, harassment, detention or imprisonment into persuading their family members to return 'voluntarily,'" or directly approaching the target "through online means or the deployment of—often undercover—agents and/or proxies abroad to threaten and harass the target into returning 'voluntarily.'"
While Chinese authorities claim the police outposts are for providing services for overseas Chinese communities, such as renewing drivers' licences, the report said they serve a more "sinister goal," as many targeted by the Chinese operations were dissidents or non-suspects fleeing Beijing's religious and/or ethnic persecution.
Investigations
Several governments around the world are taking action to investigate reports of such Chinese police outposts within their territories.
As of Nov. 7, Safeguard Defenders said 14 governments have launched investigations into the issue. Those countries include Austria, Canada, Chile, the Czech Republic, Germany, Ireland, Italy, Nigeria, Portugal, Spain, Sweden, the Netherlands, the United Kingdom, and the United States.
An alleged Chinese police station in Dublin, Ireland removed its signage in October after the Irish government began questioning the local Chinese embassy about the station's activities.
Occupants in one of the three service stations in Canada, located in Markham, Ont., denied the reports of its policing activities despite its office address having been listed on a Chinese state media outlet as one of the police outposts.
Occupants of the other two alleged service stations, which correspond to a convenience store in Scarborough, Ont., and a private home in Markham, have also denied affiliations in Chinese overseas interference operations.